Planning is the key to change and maintain a healthier lifestyle. Being organized and making decisions, in advance, helps to keep the right mindset and to achieve goals with less effort. 
This printable weekly planner is your help to get back on track. Plus, the cute and modern design will look amazing on your desk or wall.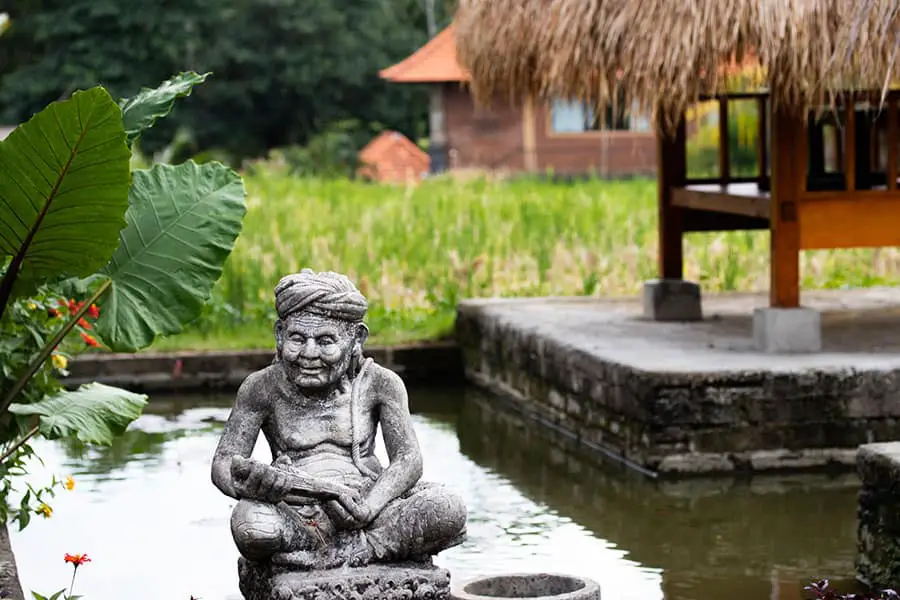 Why you should use a healthy week planner

Nowadays, we need to be organized to be able to navigate the hectic world. However, we often organize many activities that keep our days busy, but we forget to plan our healthy habits.

This healthy weekly planner has been created for this reason and it's also a tool that helps decide what healthy habits are going to transform our weeks into healthy ones.

There are many weekly planner templates available online, but most of them are generic ones to plan your activities for the week. This healthy weekly planner, however, is specifically targeted for healthy habits.

Its instructions will help you learn about habits for a healthier lifestyle, and by scheduling those habits, it'll be easier to maintain them. 

Keeping healthy habits will help you to have more energy throughout the day, be more productive, and save time to dedicate it to doing what you like the most. 

A healthy weekly planner not only might help you to be more committed to keeping your healthy habits, but it also works as a tracker that helps you to introduce and keep track of those habits. 

Indeed, a planner to organize a healthy week is the first step for success. 

Printable weekly planner template

Some people prefer to use apps, some others prefer a digital template, and then, there are the paper and ink lovers. 

This cute printable weekly planner is A4 size and it's beautiful if printed either in color, or in black and white. 

The convenient, printable pdf format allows us to store the template easily and print it out whenever necessary.

It will look great on your fridge, in your office, or next to your night table. Having it visible most of the time will help you to remember all of those habits.

This planner will make sure that you enjoy a healthy week.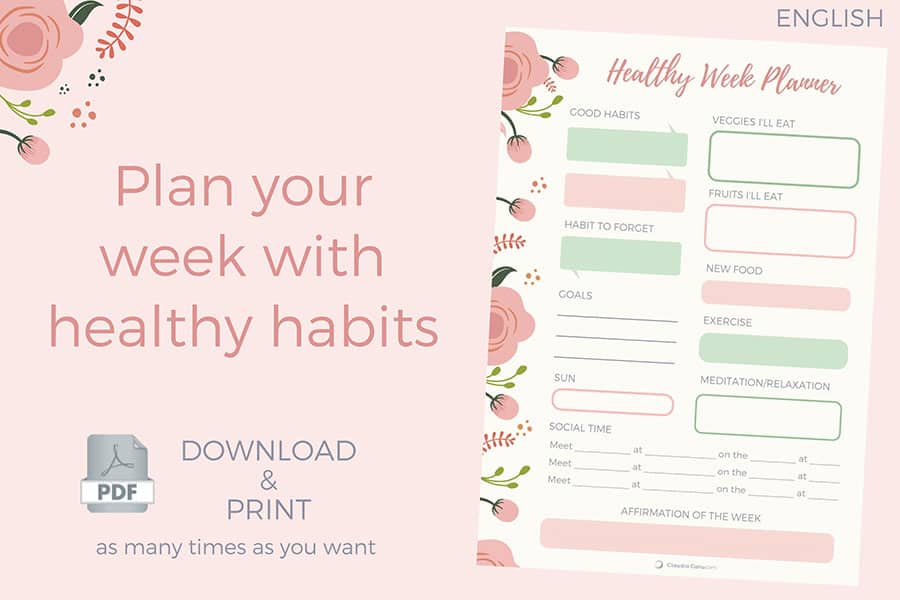 Instructions for this weekly planner

This healthy weekly planner is very easy to use and it doesn't require much hassle to start. 

1. Visit the Health Motivation Etsy shop and download the version that you prefer; you can choose between the Spanish or the English one. 

2. You'll receive an automated email with the downloadable file. 

3. Save a copy of that file as your master file and keep it somewhere safe.

4. Keep the copied file on your desk or a quick, accessible folder so that you can easily print it whenever you need a copy.

5. You can also print many copies at the same time and store them in a drawer. 

6. One or two days before the beginning of the week, use the weekly planner to think about all of the good habits that you want to keep in the following week. 

If you are new to healthy habits, you can start by planning only one or two of them; once they are part of your daily routine, you can keep adding more.

How to use this habit planner for the week 

Let's see, in detail, how to fill in every section of this healthy weekly planner:

GOOD HABITS

Write down two good habits that have only recently started to be part of your daily routine. 
Ideally, these are the habits that you are still tracking with your free habit tracker .

If you need some inspiration on new habits, have a look at this blog post.

HABIT TO CHANGE

Write down a habit that you want to change. It can be anything, small or big. It would be best if you use a positive sentence, and write the small step that you are going to take to get rid of that bad habit.
For example, if you would like to stop smoking, you can write a sentence like "I'm going to smoke one cigarette less every day of this week".

GOALS

What are your goals for this week?
These goals can be related to your job/business, or it could be something that you were supposed to do a long time ago but for laziness, fear, or lack of time, you have been postponing. It can be something that you have to fix in the house, a phone call to make, or buy something that you need.

SUN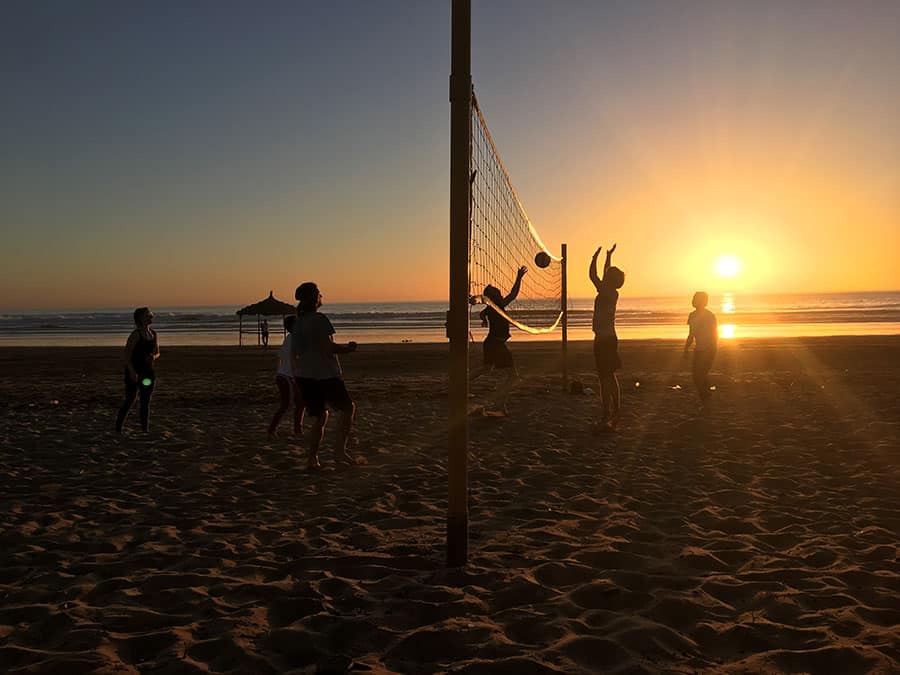 Being exposed to direct sun for 15 minutes a day, it's important to keep our level of vitamin D high. For some people, it's not easy to take the time to stop and spend time in the sun. 
An option would be to get your dose of sun while you do your meditation or a workout. 

Use this space to write down how many days during the following week that you think you'll be able to spend 15 minutes in the sun. 

VEGGIES/FRUITS I'LL EAT

Decide what fruits and veggies you are going to eat during the week. Remember that you should eat 3 to 5 portions of veggies and 1 to 3 of fruits daily. The bigger the variety, the better. 
Also, use your previous planners to remember what you have eaten for the previous week, so that you can choose different varieties.

NEW FOOD
As I always suggest, keeping a varied diet is important to keep a balance in our vitamin and mineral intake. 
This section is to help you introduce new food to your diet because we often buy and consume the same foods. 

It might be because we don't know how to use certain ingredients, or because we prefer to keep it safe and go for the flavors that we are familiar with already. 

However, it's nice to get out of our comfort zone. Learn about different types of fruits, veggies, legumes and cereals; buy them and prepare them. 

If you need inspiration, read my post "10 Types Of Ingredients You Should Always Keep In Your Kitchen".

EXERCISE

Here you can write the workouts you'll do for next week. It can be a type of workout that you do at home or at the gym. You can also add a walk that you think you'll do or a bike ride.
If you usually take the elevators or escalators, you can also add the days of the next week, when you think you'll take the stairs instead. 

MEDITATION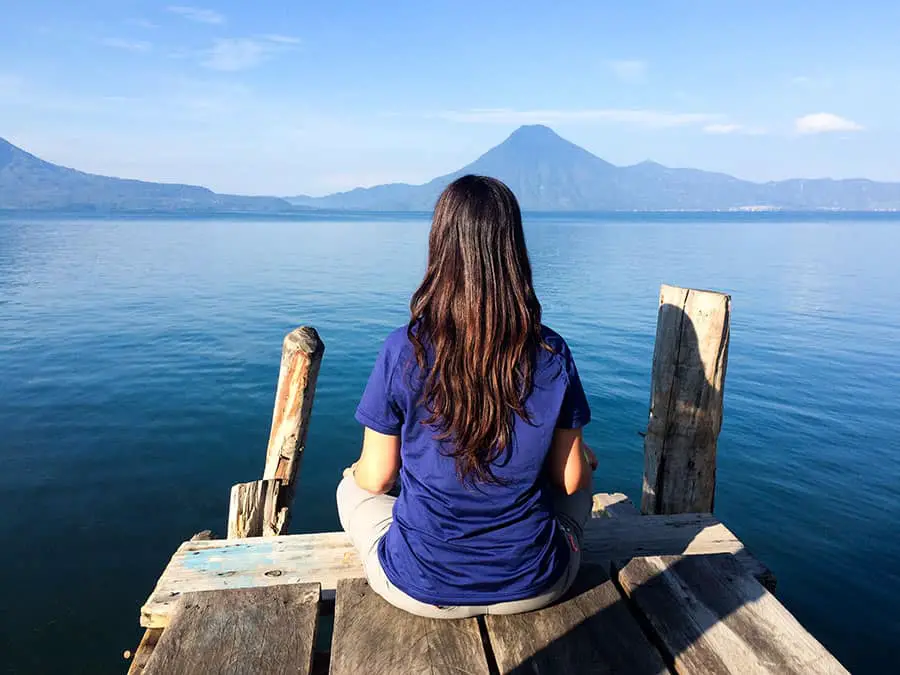 Will I do my meditation/relaxations? How many minutes a day?

If you have never meditated before, you can start with a simple relaxation. Find a moment during your day when you can lay down, or sit comfortably in a quiet space, or wear good headphones and listen to relaxing music. 

You just need to focus on your breathing; whenever you notice that your mind is thinking on something, just go back to concentrate on your breathing again. 

It's common thinking that meditation is about leaving the mind blank and if we catch it wandering, we would be hard on ourselves and think that we are not good at meditating. 

However, instead of a guilty feeling, we should be happy and compliment ourselves for noticing that our mind started wandering, so that we can then go back to focus on our breathing.

SOCIAL TIME

Spending time with people we love and appreciate is important to maintain an emotional balance. 
Use this section to decide who you are going to meet next week. It could also be a phone call with a friend who lives far away from you. 

AFFIRMATION OF THE WEEK

Find an affirmation for this week, relating to what you are working on at the moment. Read it and repeat it as many times as you can.

If you are not familiar with how affirmations work, or you need some inspiration to find the best positive affirmations for your present state and goals, visit the blog post Positive Affirmations For Healthy Life. 
I hope you'll make the best use of this tool and that it'll help you to make that change to a healthier lifestyle.
As always, I appreciate you stopping by my blog, and if you think this post might help someone you know to make even a small step to a healthier lifestyle, please don't hesitate to share it away!

Happy Healthy Living!

A big hug,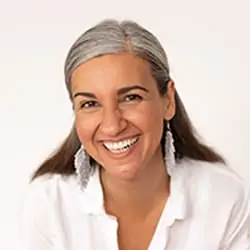 Claudia Canu is a former junk food and sugar addict transformed into a Health Motivator with a master's degree in Nutrition. She has created this website not only to share her "Journey to her Healthy Forties" but also to help other busy women with basic knowledge about nutrition and who don't love cooking, to live a healthier life, and achieve big goals.
To get in contact with Claudia, visit the contact page. To read more about her, click here.