In October 2017, my visit was different from the previous ones because this time around, I had already started working toward my goal of getting to my 40s as the best possible version of myself.
Even though it was just 5 days, the trip did throw me a bit off-balance, but those days were also very enriching nonetheless.
It had already been a month since I had started eating healthier and only a couple of weeks into my training.
As I previously mentioned in my post Personal Trainer. Is It Worth It? it was impossible for me to follow my training schedule during this trip, especially because most of the activities and catch-ups with friends and family all revolved around food.
Is it possible to eat healthy in Italy?
Many people think that in Italy you eat incredibly well, and yes, I also love Italian food, but is it actually healthy?
Have you ever been to a supermarket in Italy? The amount of ultra-processed foods and sweets, including pastries and cookies, continue to shock me.
In the restaurants in my hometown, I never managed to find one delicious salad that was more than just lettuce with tomatoes, and the majority of the restaurants we met were pizzerias.
Also, it had been a few years since I had been back to Sardinia and I was surprised to see that the portions on the plates seemed more similar to those of Americans rather than Mediterraneans.
In regards to breakfast, in Italy, it's typical to eat something sweet, and the most standard breakfast includes a "cornetto e cappuccino".
In Italian homes, this doesn't vary much. It's common to eat some sort of commercial pastry or milk with cookies. Fruit during breakfast is an unknown concept to Italians and oatmeal is associated with pig feed.
The advantage I had during my stay was that I was able to use the kitchen at my parents' house to prepare my own oatmeal-based breakfasts, my salads, my vegetables, and my toasts, and while I was at it, educate my family on a few things about leading a healthy diet.
Fortunately, everyone seemed to be very receptive and I didn't have to endure much criticism or too many jokes.
In fact, one of the most positive aspects of this trip was that I was able to continue being the new Claudia I was aiming for, and continue following my own choices in terms of dietary habits, without caring what other people thought.
Have you gone through a similar experience in which you managed to remain true to yourself without caring about other people's opinions? Tell me about it below and share a bit about how you reacted.
Do you think someone you know could benefit from this post? Don't hesitate to share it with them!
Thank you for stopping by.
Happy Healthy Life!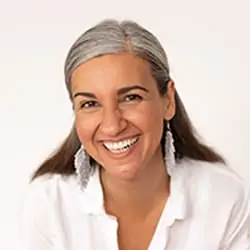 Claudia Canu is a former junk food and sugar addict transformed into a Health Motivator with a master's degree in Nutrition. She has created this website not only to share her "Journey to her Healthy Forties" but also to help other busy women with basic knowledge about nutrition and who don't love cooking, to live a healthier life, and achieve big goals.
To get in contact with Claudia, visit the contact page. To read more about her, click here.