A short time into my journey to my healthy 40s, I realized the importance of creating a habit (and maintaining it). And since I had never really succeeded in the past, I decided that the moment had arrived to begin some research on the topic.
What's a habit
This is how I found out about the book The Power of Habits by Charles Duhigg, which was a complete revelation.
According to Duhigg's research, a habit is a task that we do in an automatic way, without thinking, and our brain creates habits to save us the effort.
Additionally, habits settle in without us noticing, and once we do notice, they have already become a routine that is almost impossible to change.
For example, the relaxing feeling that drinking a cold beer provides after a long day of work, or the comforting sensation of hot chocolate on a cold winter day.
Duhigg explains that a habit generates in 3 steps and that it becomes a loop that repeats itself over and over.
The sign: that which informs the brain what habit to use.
The routine: that which we do physically, mentally, or emotionally.  
The reward: that which informs our brain if it is worth remembering this loop in the future.
The sign that unleashes a routine is the same one which makes us long for the reward. So we know that a habit has formed once the same loop keeps repeating itself and generates that anticipation and desire.   
Is it possible to change a habit?
Fortunately, it is. Habits can be changed, substituted or ignored. The good news is that once a habit has been changed, or a new one has been incorporated, it won't be hard to maintain it because the brain will go on autopilot.
I managed to ignore my habit of smoking while also changing many of my dietary habits and incorporating the habit of working out.
When I started with my challenge, I only thought about changing the habits which weighed me down.
But with practice you learn, so here is my list of tips so you won't die trying:
1. Recognize what is causing you anxiety and how this is guiding your behavior. Pay attention to what sparks a habit and analyze what you feel after the habit has happened. For example, I used to smoke a cigarette right before going to bed and I used to do it after dinner in order to end the day and disconnect.
2. Change the routine. Following the same example, I now end my day by washing the dishes and leaving a clean kitchen in order to start the next day on the right foot. Isn't it true that when you wash the dishes, you do it automatically and your mind starts to wander? It's a great way to end the day and disconnect.
3. Believe that the change is possible and speak positively. I already mentioned this in bullet point #1 of the post titled "The importance of setting a goal and believe in it."
4. Start with small changes that don't require too much effort or stress. Duhigg states that research has shown that small victories have great power because once one is achieved, it sets a force in motion which pushes you to accomplish another, and so on.
In my example of quitting smoking, I didn't go from smoking 10 cigarettes a day to smoking zero. I simply kept smoking less and less throughout the years until I got to the point in which I was only smoking that one nightly cigarette.
5. Write it down on your calendar or set an alarm. When I wanted to eat more legumes, for example, I had to set an alarm so that I could remember to soak them the night before, or simply to remember to include them on my shopping list.
The idea is to have external reminders about the habit which you're working towards until the brain starts doing it automatically.
6. Congratulate and motivate yourself. Congratulate yourself when you develop a new habit and motivate yourself if you fall back into the same pattern. Relax, tomorrow you will try harder because you already know that you are strong and you can do it!
Free Habit Tracker
If you need some extra help to change and maintain new habits, you can download now, for free, this simple and effective Habit Tracker.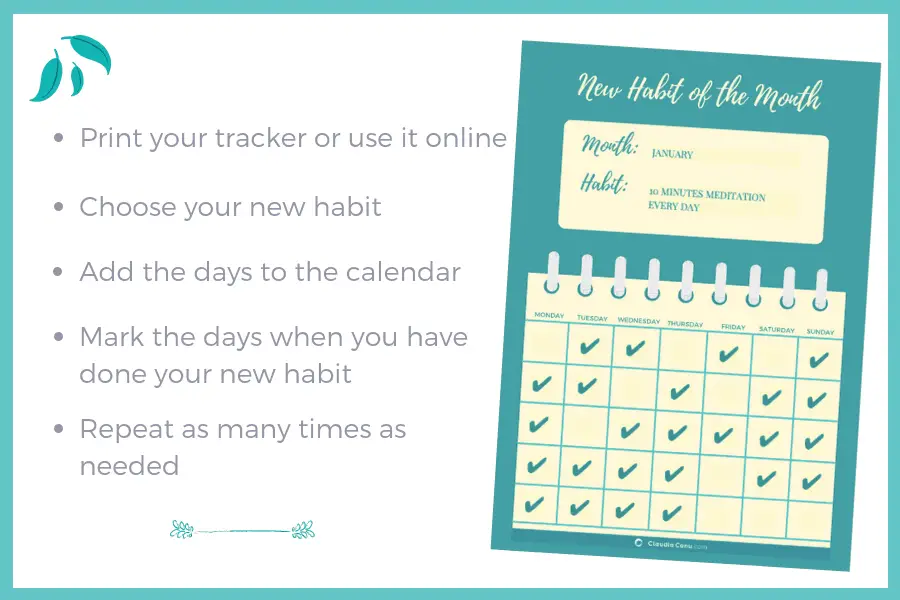 Do you have a habit which you'd like to change or create from scratch?
Have you tried and failed before?
Leave a comment below and tell me if you think that what you just read is useful. And don't forget to share this post if you think that it might help someone you know. ?
Keep reading if you'd like to know more in details how I quit smoking.
Thank you for stopping by and I wish you a Happy Healthy Life!
A big hug,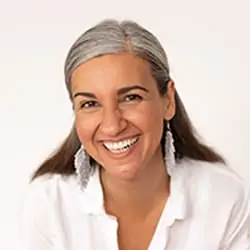 Claudia Canu is a former junk food and sugar addict transformed into a Health Motivator with a master's degree in Nutrition. She has created this website not only to share her "Journey to her Healthy Forties" but also to help other busy women with basic knowledge about nutrition and who don't love cooking, to live a healthier life, and achieve big goals.
To get in contact with Claudia, visit the contact page. To read more about her, click here.