If you are looking for a physical change, seeing yourself every day in the mirror does not make you appreciate the changes made in a short time.
In addition, there is the fact that your body will not suddenly change shape and the reduction in size can be hard to notice.
For this reason, measuring yourself is a good solution to confirm your progress.
My visual changes and numbers
So that you can understand what I am talking about, here are my photos taken on the second, the fourth and the seventh months of the challenge.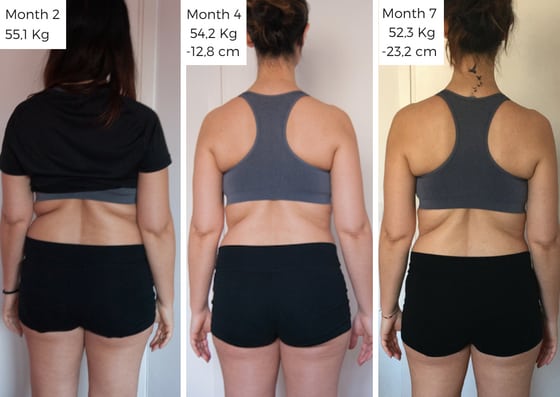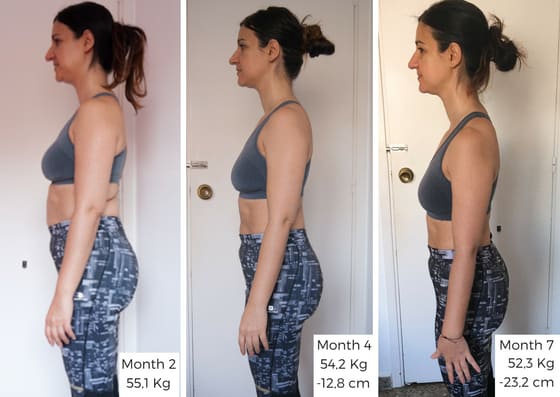 Don't you think that in my back pictures I look thinner on the fourth month than in the seventh month? Maybe it's because the photo is taken from a different angle, but in reality, between the two photos, there is a difference of 23.2 cm.
Here is the detailed table with all the measurements.
What workout routine I usually follow
After I have published the post Results after 4 months, some of you asked me what kind of training was I doing.
During the first two months, I was following a personalized table that a personal trainer did for me. After two months, she changed it with another one, increasing the intensity.
However, in March I was already bored of always doing the same exercises, and as I heard about HIIT (High-Intensity Interval Training), I decided to investigate it.
I was encouraged to watch the YouTube channel of Fitness Blender and from mid-March to early May I was doing this routine three times a week.
What I liked about this routine is that, as the trainer says, it's a tough routine for the body and she recommends to do it only three times a week. Which is perfect if you have very little time like I do.
Just wanted to point out that, since I'm working online, during all these months of the challenge I have spent a lot of time at home.
Plus, in Barcelona, I usually move around on my scooter. But I had the advantage of walking a lot during the two weeks that I was in Bulgaria, or at least, much more than I usually do in Barcelona, hehe
The advantages of doing sports


As you can imagine, I am very happy with the physical changes that I have achieved during these seven months.
Also, it was great to realize that those physical changes are not related only to losing centimeters, being lighter or looking thinner.
It was quite a surprise and satisfaction to note that these changes in diet, along with the training, were giving me much more than that.
These are the additional benefits that I've noticed:
More resistance: when I now climb stairs I don't have that feeling of fainting anymore.
Better rest: workouts help to relieve stress and to disconnect the mind, which leads to a better rest at night.
Stronger muscles: this transforms the daily activities, for example lifting any weight, in something that does not require much effort.
More flexibility: bending over to put on my shoes, or picking up something from the floor, does not make me feel like a grandmother with a bad back.
Change of posture and less back pain: by having more trained muscles, they help to make it easier and more natural to have good posture and thus avoid contractures.
Better mood: the fact of releasing tension, thanks to sports, helps me change perspective and think things over twice before getting angry or jumping for anything.
Better self-esteem: looking in the mirror, appreciating my body and being happy with it, makes me feel more comfortable with myself.
Development of an addiction: this doesn't sound very positive, but I'm actually referring to the fact that when your body is trained, it automatically asks you for more and you don't have to force yourself to work out anymore.
Are you looking for some physical changes in your life?
What are you doing to achieve them?
Do you usually manage to keep a workout routine?
If not, what do you think stops you?
As always, a thousand thanks for stopping by on my blog.
I would love to hear your opinion about what you've just read and if you have any questions, do not hesitate to leave a comment below.

If you think that this post can motivate someone you know to make some changes toward a healthier life, please, share it away.
Here is the link if you'd like to read about my Emotional Changes After 7 Months Into The Challenge.
A big hug and Happy Healthy Life,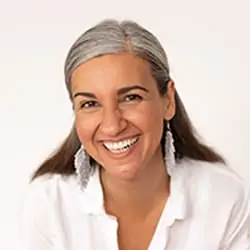 Claudia Canu is a former junk food and sugar addict transformed into a Health Motivator with a master's degree in Nutrition. She has created this website not only to share her "Journey to her Healthy Forties" but also to help other busy women with basic knowledge about nutrition and who don't love cooking, to live a healthier life, and achieve big goals.
To get in contact with Claudia, visit the contact page. To read more about her, click here.