The challenge of my Journey to my Healthy Forties is to reach the best version of myself physically, emotionally and mentally.
It is easy to show visually what has been achieved in a physical change, but the same can't be done for an emotional or mental change. So, how can I witness those changes?
After returning to Barcelona from my trip to Bulgaria in April, I met some friends I hadn't seen for months.
Many told me that something had changed in my face as if my physiognomy had changed. Yes, of course, I had lost weight, but they told me it was something else.
A friend, after spending some time with her, said that it was the energy I was radiating.
A jump into the past to give some context
If I think about the Claudia, who at 24 left Sardinia, I remember an immature girl for her age, pretty lost in life and very naive.
Sixteen years later, I see a Claudia who has become a mature and empowered woman.
For eight years, after leaving Sardinia, I had a nomadic life. I lived in five countries, which gave me the opportunity to learn four languages and cultures that were added to my cultural and emotional background.
But those vagabonding experiences were not conscious decisions made with a specific goal in mind. I let myself be led by circumstances and luck.
During the last 16 years of my life, I was in a continuous existential search, trying to understand what I wanted to do with my life.
What was my reason for being in this world at this moment in time?
During these years I had several ideas and I tried to follow them, but I could not get the bulb to light up.
I lacked that emotional peace that would lead me to an aha moment.
What it means to be the best version of myself emotionally
– Me with myself –
For many years of my life, I had the habit of rejecting the emotions that made me feel uncomfortable, keeping only the good ones.

If something bad or negative happened to me, I used to get angry. I would say that I had very bad luck and I complained that bad things only happened to me.
The positive side of things did not exist, only all of the good or all of the bad.
Over the years, thanks to courses, therapies and many readings, I have learned to recognize emotions and accept them, all indiscriminately, whether it's sadness, happiness, surprise, disgust, fear or anger.
I have learned that all of them happen for a reason and that sometimes we can understand that reason but sometimes not, but they happen so that we can continue to grow and become better human beings.
This new perspective has helped me to look for explanations, to ask myself questions, to analyze and to give me answers to the circumstances that I have to live.
Understanding why I am going through a certain emotion at a certain moment is equivalent to understanding what I have to learn from that experience.
This recognizing of emotions has helped me to realize my reason for being and what my purpose in life is.
Today, I can say that I love my life. I wake up every morning with a desire to enjoy a new day knowing that I am doing what makes me happy and that I am working on taking care of myself so that I can contribute somehow in building a better society.
This gives me a feeling of fullness and happiness. It gives me the feeling of living a life in which every day of the week feels like a weekend.
– Friendships –
Getting to be the best version of myself emotionally has also meant accepting the fact that I can't get along with everyone.
There are people with whom there simply is no connection or people who can even have an opposite energy to mine that can be toxic.
I used to think that it was my fault if I didn't have a great friendship with everyone that crossed my path.
One day, I finally realized that it is part of the learning process. Some people come to teach me something and, in addition, they stay, regardless of the distance that can separate us.
Others are just passing through, leaving me something to think about.
Among the latter is the group of toxic people who seem to give nothing, although, if you analyze it well, you can surely find something that you have learned, even if it is recognizing something that you don't want to have in your life.
The best thing has been to realize that the world is full of people and that our life is too short to waste our time with people who take away instead of those who contribute.
– Love –
Emotions are also those that are related to the sentimental and couple life. I have to say that in my eight years in Barcelona, this aspect of my life was simply a disaster.
I had my moments of despair, sadness, disbelief, and frustration, but in these last months, I have managed to give me an answer that makes a lot of sense: in all of these years I needed to learn to know myself, to take care of myself and to work on myself to be able to get ready for a healthy and adult relationship.
Well, I'm pretty sure I've reached that point. I guess, now, I just have to wait and see if I'll meet someone along the way 😉
The important decision that has come with these emotional changes
In the summary of my challenge for the month of April, I told you that some emotional changes made me make important decisions, and the most important of all has been to leave Barcelona after eight and a half years.
For months, and to be honest maybe years, I was thinking about leaving the city.
But, from previous experiences, I already know that a change of country is not easy and, besides, I was not very aware of what I was looking for.
However, it was as easy as arriving in Bansko, a small mountain village in Bulgaria. I decided that was where my new base would be.
Leaving Barcelona means leaving my comfort zone.
Here, I have my friends, I already know the city and I know how to move easily in it.
I do not have any problems with the language and I have my habits and routines. Everything is easy here.
But the new Claudia is no longer afraid of changes. Instead, she seeks them, especially if she knows that it's a change that will add a lot.
I always considered myself a "city girl" and I have never needed contact with nature. In fact, on the contrary. I used to reject it.
But it seems that now it is not like that anymore and what I wish now is to be in a quiet place, silent, with pure air, with a mountain where I can enjoy walks and where time passes slowly.
What do I do now that I have recognized what I really want? Just go for it! Right!?
An emotional change is to realize what makes you happy, what you really want in your life and also to pursue it.
There is no need to be afraid, but neither should you just go for it without doing some thinking beforehand.
Evaluate, consider, take options, find solutions, but do not stop looking for that emotional change if that is what you need.
It seems that this post has come out even more personal than they usually are. I hope I didn't bore you, but I actually hope I've brought you a little inspiration to work on your emotional change if you need one.
As always, thanks a lot for your visit to my blog. If you want to get in touch with me, do not hesitate to leave a comment below or send me an email to hola@claudiacanu.com.
Here is the link if you'd like to read about my Physical Changes After 7 Months Into The Challenge.
A big hug and Happy Healthy Life,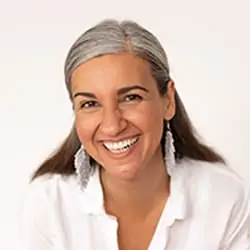 Claudia Canu is a former junk food and sugar addict transformed into a Health Motivator with a master's degree in Nutrition. She has created this website not only to share her "Journey to her Healthy Forties" but also to help other busy women with basic knowledge about nutrition and who don't love cooking, to live a healthier life, and achieve big goals.
To get in contact with Claudia, visit the contact page. To read more about her, click here.