It's possible that after reading the title of this post your thought was that you are doing everything right and that you are not gambling with your health at all.
Unfortunately, we often don't realize what we are doing wrong because, possibly, we have been doing it for a long time and it has become the norm.
In addition, to know if we are on the right track, we tend to compare ourselves with all those people who always do worse than us. This sounds familiar?
It's actually a form of defense because the moment we compare ourselves with those who are doing things better than us, it might get painful.
We would probably get jealous and, consequently, we will find all the reasons why others are doing well: they have luck, more money, more time, fewer obligations, they live in a better environment and so forth.
They basically have all the advantages that, unfortunately, we don't have. Am I right?
However, do you know what's the real reason why many of us are gambling with our health?
Because we are lazy.
Taking care of our body and our emotional and mental health requires time and dedication.
In fact, if you've taken care of someone else, whether it be your son, a relative or a friend, you know that it takes time and I'm sure that when you've needed it, you've managed to find the time, even if you were really busy, right?
Let's be honest, we find the time to take care of our pets, our apartments and our cars. How come, then, that we can't find the time to take care of ourselves physically, mentally and emotionally?
Wouldn't all of us like to live in a healthy body and with the energy that makes us just happy? I wouldn't accept any negative response here, because I know that we all want to be well. So, what is preventing us?
We are quickly approaching the holiday season which, for many, means losing control. My invitation to you is that you take some time for yourself to reflect and ask – What do I need to take better care of myself, to grow and to be better and healthier?
Here below I give you 5 key points which you can start working on and I offer you some solutions that I have personally found to be very useful and have helped me to begin my forties being the best version of myself that I have known so far.
Heads up: some of the products I mention below may contain affiliate links and should you decide to buy anything, I'll earn some tea money that I'll be sipping while creating more free content for this blog. Thanks a lot for your contribution 🙂
What you might be doing wrong and some solutions that can help you.
1. You have junk food in your house.
It's the food that you usually consume when you need some comfort or when you arrive hungry at home
Do yourself a favor and rid your pantry and your fridge of all that kind of food. It might be that our definitions of junk food are somewhat different.
The best thing you could do is to eliminate all products that have sugar, wheat flour, or any other ingredient that you've never heard of, in the ingredients list.
Make it so that in your pantry, and in your fridge, there is room only for natural ingredients that your great-grandmother could recognize.
Visit the fruit shop next to your place. Buy yourself some fruits and vegetables in large quantities and remember to be diverse in your selection.
If you are based in the US, you can buy the rest of your food comfortably online at Thrive Market where you can find a wide range of organic brands with discounts up to 50% and a 25% off for your first order. If you are based in Spain, you could shop online at algoparalasalud.es.
If you also eat animal products, find a store that sells meat and dairies made from animals who have been following their natural diet instead of having been fed with grains; grass-fed cows and pastured chicken. If you like to buy online and you live in the United States, you are lucky because you can buy online at Snake River Farms, Farm Food or Butcher Box. Also, at Butcher Box you'll get free bacon for the rest of your life!
I'd like to remind you that you don't have to be an expert in the kitchen in order to eat healthily. In my post My Solutions In The Kitchen To Always Eat Healthy And Delicious Food  I explain how I managed to organize my kitchen and how a balanced dish looks like.
Also, if you need recipe ideas for your breakfast, snack, or brunch, you can visit my healthy recipes section where you will find a few ideas.
2. You have a routine that does not include any creative activity.
You probably do your best to keep your schedule full and avoid boredom, but take a look at those activities and see which one of them include creativity on your part.
For example, when you meet up with some friends to have food or drinks and have a chat, you are not being creative. Nor if you are going to see a movie, a show, a concert or, in general, consume culture passively.
I know, you may find it odd that I advise you to be creative, in fact, it is a piece of advice that we don't hear often. However, in a study published in 2016 it was shown that everyday creativity is a mean of cultivating positive psychological functioning.
Among the most common activities identified by researchers are creative writing, drawing, painting, crochet or knitting, graphic design, and sketching. But other creative activities can involve cooking, photography and video making.
You may think that you are not a creative person and that you are not good at these activities. But, as indicated in the study, you do not need to be an expert or create a work of art. The important thing is to create.
If you don't know where to start, you can sign up to Skillshare where you have FREE access to all their courses for 2 months and without commitment.
3. The only exercise you do is sitting down and getting up from some kind of seat.
I already know all the excuses that you can have here: "I don't have time to workout", or, "Gyms are expensive", or, "I feel lazy if I have to leave the house to go to the gym", etc…
Well… the solution here is far TOO easy: youtube!
There you will find a lot of free videos of all kinds. From yoga to cardio and HIIT. You can workout comfortably from your home and without the need to invest money to buy special equipment.
If you do not know where to start, in my post Physical Changes After 7 Months Into The Challenge I tell you the routines I used to follow during my challenge.

4. You are not sleeping enough and possibly badly.
Having an active and/or social life doesn't help to go to bed early and to be able to rest 7 or 8 hours per night, but, sometimes, it's just a matter of organizing.
Unless you can't change your schedule so that you can wake up later, what you can do is try to do your activities earlier so you can go home earlier, or even set a few days of the week free of activities so that you are sure to go to bed early.
If you don't exercise at the moment but decide to give it a go, it's very likely that this will help to improve your sleep quality.
However, if you already workout regularly but you still can't get some good night rest, I'd like to recommend you give meditation a try. For me, it's one of the most effective solutions whenever I need to shut off my brain at night.
If you have never tried meditation before, I suggest you take a look at Udemy.
Here you will find many affordable courses, both for beginners and for people who want to deepen the subject. Do not waste time searching for the perfect one. Follow your instinct, join the one that catches your attention and starts without thinking too much.
Remember, also, that meditation is a practice. A course is useful to learn several things, but most important is that you follow a daily practice, even if it's just 10 minutes a day.
Finally, do not forget that a little bit of organization and willpower will help you to go to bed early.
For example, before moving to the couch after dinner, do everything you need to do for the next day and get ready to go to bed so that, when you are about to fall asleep, you can go directly to bed without thinking that you still have things to do.
5. You are stuck in a job that you hate.
In addition to this, you probably love to sabotage yourself with negative thoughts and convincing yourself that you are not good enough to change jobs or to start working on your own.
You may not even realize the great amount of energy that we need when we have a job that doesn't fulfill us and doesn't bring any satisfaction.
There are several options to change this situation and the solution may not be easy and might also require time and dedication.
But what is undoubtedly beneficial is to take that first step, because that means that you are already in the process of changing your situation and that will help you start feeling better.
What I personally did when I finally decided to change my work situation was to put all my focus on changing my negative attitude and learning about business.
At Creativelive they have a session called "Money & Life" with courses about self-improvement, entrepreneurship and business, all presented by big names such as Mel Robbins and Tim Ferriss, among others.
In addition, on this website, you can find courses presented by Pulitzer, Grammy and Oscars winners. It's possible to buy single courses but they also have an annual access to more than 1500 classes at a price cheaper than one coffee per day.
BONUS: Personal Care
I have decided to put this point related to personal care as a bonus because it's likely that not everyone is affected by their physical appearance.
Looking in the mirror and smiling at myself because I liked what I saw was something that personally helped me to pursue my 9-months challenge. And, in general, the very act of using specific products to take care of myself physically, is something that confirms that I am taking the time to be better.
I could recommend a few products, but I prefer to choose only one brand, The Body Shop that, surely, you already know.
I like this brand because it helps to empower women through an ethical trade, they do reforestation campaigns, they are against animal abuse and, last but not least, their products smell great!
And here's one final thought to close this long post:
Remember that if you are well, you can take better care of others. If you are in a good mood, that is what you transmit. If you are the best version of yourself you are more kind to everyone else and you will give unconditional love.
So take control of your health again and remember that
Prioritizing yourself, and your body, is being generous towards others.
Finally, if you think that someone could benefit from these ideas, don't hesitate to share this post. Or if you don't want to be so direct, Christmas is close and, instead of buying something without much meaning, choose something to improve the lives of your loved ones and tell them the reason why you have chosen that gift.
Something small but meaningful can have infinite power.
I would love to hear your opinion, recommendations and experiences, so, please, don't hesitate to leave me a comment below.
As always, thank you very much for stopping by.
A big hug and Happy Healthy Life!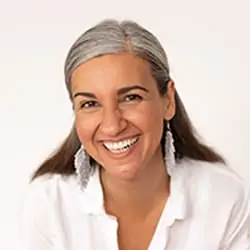 Claudia Canu is a former junk food and sugar addict transformed into a Health Motivator with a master's degree in Nutrition. She has created this website not only to share her "Journey to her Healthy Forties" but also to help other busy women with basic knowledge about nutrition and who don't love cooking, to live a healthier life, and achieve big goals.
To get in contact with Claudia, visit the contact page. To read more about her, click here.