My challenge is over and the moment of truth has arrived 🙂
Nine months of this journey to my healthy forties have gone by to become the best version of myself physically, emotionally and mentally. If I had to summarize it with just one word, I would choose the following: REBORN.
How the challenge began
It all started one day when I decided to go to therapy because I realized that my relationship with food could not be defined as a healthy one. I would have craving attacks and I'd eat a lot of junk food suddenly. Most of the time, I would forbid myself certain food but I didn't have enough willpower. So, I'd end up eating unhealthy foods, which made me feel guilty and that would cause to eat more. It was a vicious circle from which I could not see a way out.
Going to therapy was the first step in starting to connect with myself and to understand that a change in my eating habits was related to much more than the food I ate.
Finally, in September 2017, several circumstances came together in my life. That's when I decided to start with my challenge and journey to my healthy forties.
What happened during the nine months of the challenge
This is the table with the numbers related to my physical change.
But, re-reading all of the posts I have written during these months about what has happened during the challenge, I can make a list of the things I have learned in each aspect: emotional, mental and physical.
Emotional:
Mental:
Physical:
Finally, I have learned a lot about nutrition and how important rest is, and although I have not yet had the opportunity to write more in detail about these topics, it's on my list 😉
And here is the typical Before and After photos of what the physical changes are, although we know that these changes represent only a part of what has been the global and most important change.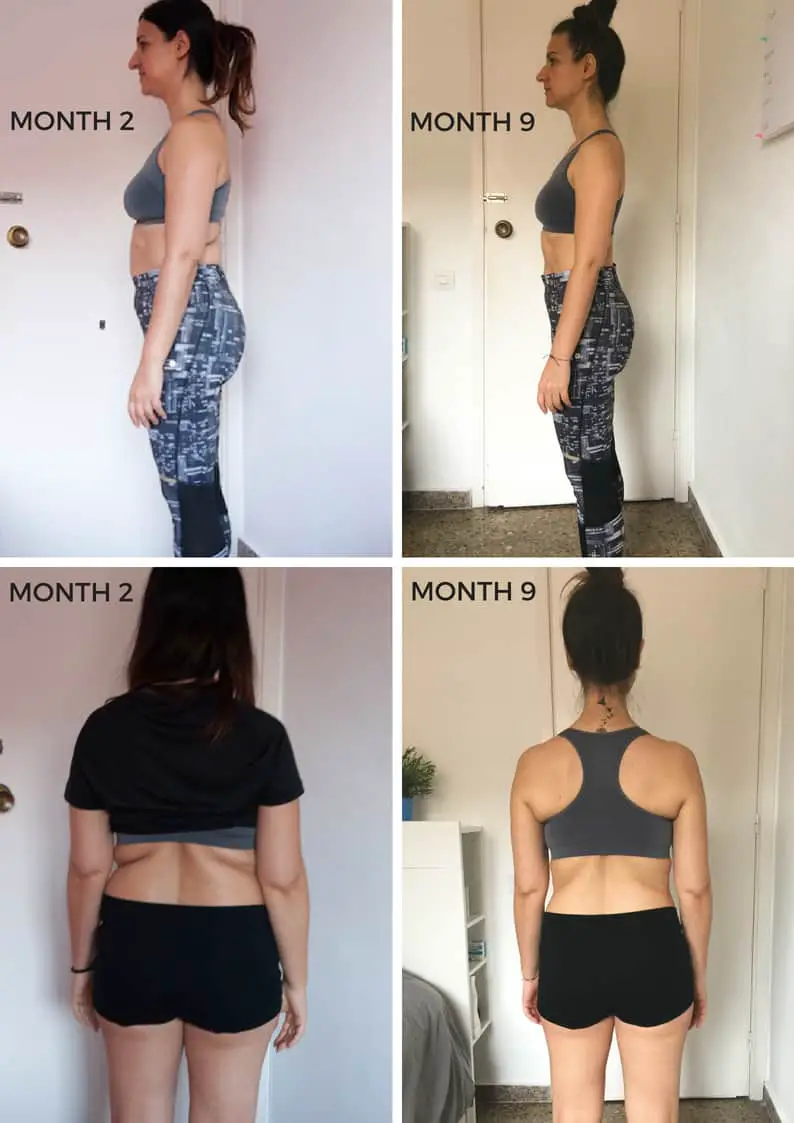 The final results of the challenge
You probably already know that I decided to come to Bali for a month to celebrate my 40th birthday and to close this challenge. I had felt for a long time that Bali was calling me. So, getting everything organized to be here makes me feel proud of myself.
This trip has been a bit more adventurous than I had imagined, but it has given me funny experiences and brought me some interesting people.
I also have taken the time to be alone and to reflect on what has been the challenge, what I have learned from it, and also to connect fully with the new version of myself being 40.
I dare to say that I feel that my 40 feels like my new 20, meaning that I have renewed strength and an open mind to new possibilities. But the best of my forties is the connection I've made with myself, to learn what I need to feel well and to eliminate certain fears that I've been carrying with me for many years.
Realizing that my relationship with food was related to other aspects of my life was liberating, and having been able to achieve so many changes, thanks to a global work, was revealing.
Exposing myself so much with this challenge, and showing my most vulnerable part has already been a good exercise to overcome the fear of judgment from others and the fear of failure.
I have never felt with more strength and willingness to do, experiment, and live, having the awareness of what I like and want, without the feeling of having obligations or restrictions.
Being connected with myself, loving myself, and being kind to myself makes me more open and receptive, both with people and with experiences. But I have also learned to set limits and to say no in a very polite way without feeling guilty.
I have learned that perseverance is what brings important results and, for that, you need to have patience, not being in a rush. I believed in miracle solutions, but I have learned that if they work, they disappear after a short time.
Bill Gates said that most people overestimate what they can do in a year and underestimate what they can do in ten years. In my case, I could modify that phrase like this:
I used to overestimate what I could do in a month and underestimate what I could do in nine months.
These nine months have been a rebirth. I know that I am just at the beginning of a new phase of my life that looks like it'll be wonderful because a better version of me is now in charge.
All of these changes related to food as well as to my physical, mental and emotional aspects, make me feel at peace and give me a feeling of freedom.
If you are reading this, it's very likely that you are also looking for a change toward a healthy life. If this is the case, my wish is that this space will help you to achieve that change, to feel at peace with yourself and above all, free.
Do not hesitate to contact me if you have any questions or if you think I could help you somehow.
You can leave a comment below or send me an email to hola@claudiacanu.com.
And if you think that this content can help someone you know, just share it away 🙂
As always, thank you very much for your visit!
A big hug and Happy Healthy Life!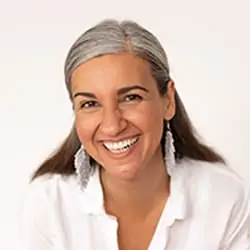 Claudia Canu is a former junk food and sugar addict transformed into a Health Motivator with a master's degree in Nutrition. She has created this website not only to share her "Journey to her Healthy Forties" but also to help other busy women with basic knowledge about nutrition and who don't love cooking, to live a healthier life, and achieve big goals.
To get in contact with Claudia, visit the contact page. To read more about her, click here.