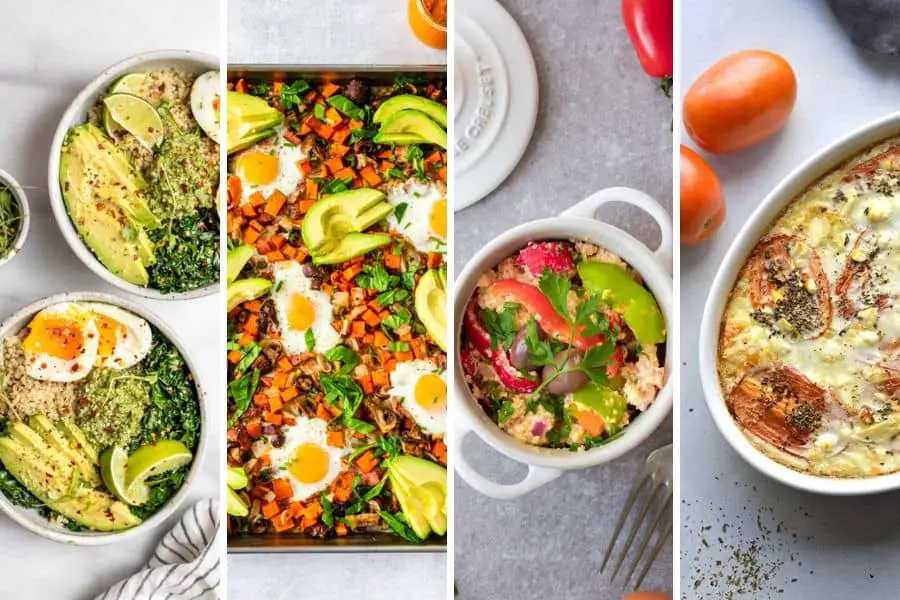 One of the positive things about eggs is that they are easy to make, they are inexpensive and we always have them in our fridge.
Thanks to their protein content, they are perfect as a breakfast food, as they keep us full for a longer time.
As a consequence, having eggs for breakfast might cut the urge of having a snack not long after eating breakfast. This will help to keep control of our weight. 
Eggs are a good choice, not only for breakfast, but they are also a great option for lunch or dinner. 
Some of the recipes below are also freezable, which makes them perfect for your Meal Plan or Batch Cooking.
Make sure to eat them with plenty of vegetables or fruits, and add some whole grain to make it a balanced meal.
Why is it a good idea to have eggs for breakfast?
For many years, we have been made to believe that eggs' cholesterol is bad for our body and can cause cardiovascular diseases. 
In recent years, however, it has been proven the opposite (1) (2) (3).
It has been shown that the consumption of eggs can be very beneficial for our health (4) (5). 
Eggs are considered to be a complete protein, which means that they contain all of the essential amino acids that our body needs to build, repair, and function. (6)
They are also a balanced source of most of the vitamins and minerals (7) needed to maintain our body in healthy conditions and they are a good source of antioxidants that protect our eyes. (8)
When it comes to buying eggs, try to get the ones coming from chickens raised humanly. This means chickens were free to wander outside from the day they were born. Free-range and pasture-raised chicken are fed a lower amount of grains. 
These types of eggs have, in general, a better nutritional value. They are richer in vitamins and omega-3 fatty acids, and they have been proven to contain a higher amount of Vitamin D. (9)
I hope these healthy breakfast recipes with eggs will help you to upgrade your average breakfast to a more nutritious one, and they will give you a lot of new ideas for quick and easy lunches and dinners.
Eggs For A Crowd
One-pan Eggs
International Recipes With Eggs
Poached Eggs
Baked Eggs
Eggs In A Bowl
Eggs On The Go