Mish Mash is a version of scrambled eggs with peppers and cheese that is typical of a Bulgarian culinary tradition and is served in pretty much every restaurant. It's a vegetarian and gluten-free recipe perfect for a Healthy Meal Plan or Batch Cooking.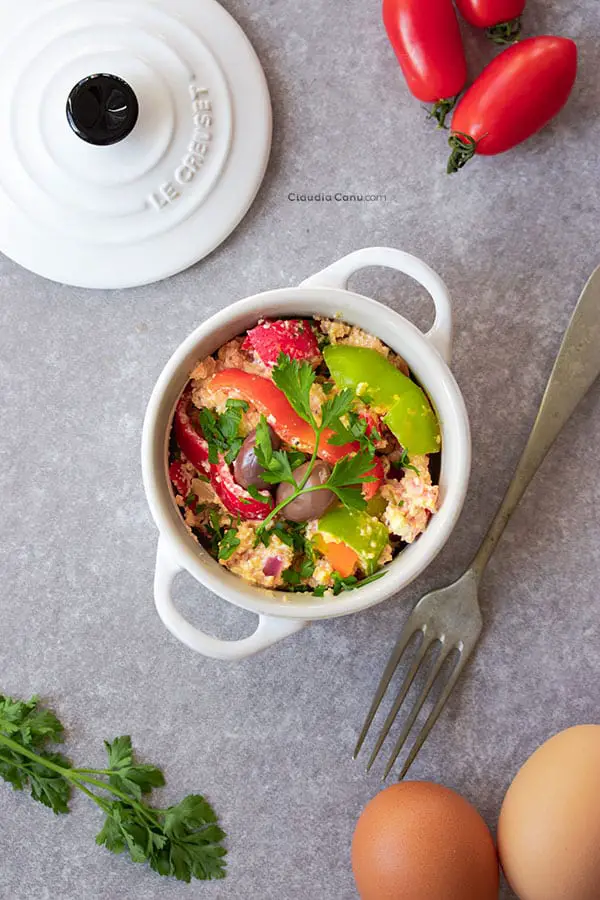 It has been two and a half months since I officially moved to Bulgaria, a country I had never even considered for my travels. But life is full of surprises. It's nice to be open to changes because they always bring something beautiful.
As a tribute to my nice welcome into this country, I have decided to add this simple and typical recipe of a Bulgarian culinary tradition to the blog. It's perfect for a healthy breakfast or brunch.
And if you have never been to this area, I recommend that you organize a visit very soon. I'm sure you're gonna love it here.
How to prepare Bulgarian Mish Mash
Preparing Bulgarian Mish Mash is very easy and the steps to follow are:
In a pan, fry the onion with the tomato and peppers.
In a bowl, whisk the eggs, add the cheese and pour everything into the pan.
Once the egg is well done, the Mish Mash is ready to serve.
Although the original version of Mish Mash doesn't include any spices or herbs, I wanted to add a little personal touch to the traditional recipe so I chose to add some Provençal herbs that are my favorites.
HOW TO MAKE THIS TRADITIONAL BULGARIAN MISH MASH (59 sec):

Why do I consider this recipe to be healthy
As you might already know, one of the reasons why I usually consider a recipe healthy is due to the ingredients used to prepare it.

Among the ingredients of this recipe, we have:

Peppers
In my post for the Mojo Picón Recipe, I've already written about the good properties of red peppers. In general, red peppers have more polyphenols than green peppers, but of course, I don't think that would be a good excuse to avoid green peppers, right?

Eggs
In the Mirza Ghasemi's post, I explain why we should not be afraid of the fat or cholesterol they contain and I tell you about all of the wonders of eggs considered a complete "protein" of high biological value, meaning that they contain all of the essential amino acids needed by our body to form the proteins it uses to function.

Cheese
In the recipe for Coffee Oatmeal, I tell you about yogurts and kefir. My point of view is the same, even when we talk about cheeses.

The most typical cheese in Bulgaria is similar to feta cheese. They have the version with cow's milk and the version with goat's milk. As you already know, I like to change flavors and ingredients.

Do not worry though, if you don't have access to Bulgarian cheese; for this recipe, you can use feta cheese instead.

By the way, do not ever tell a Bulgarian that their cheese is like feta cheese. They are very proud of their traditional cheeses and that could offend them.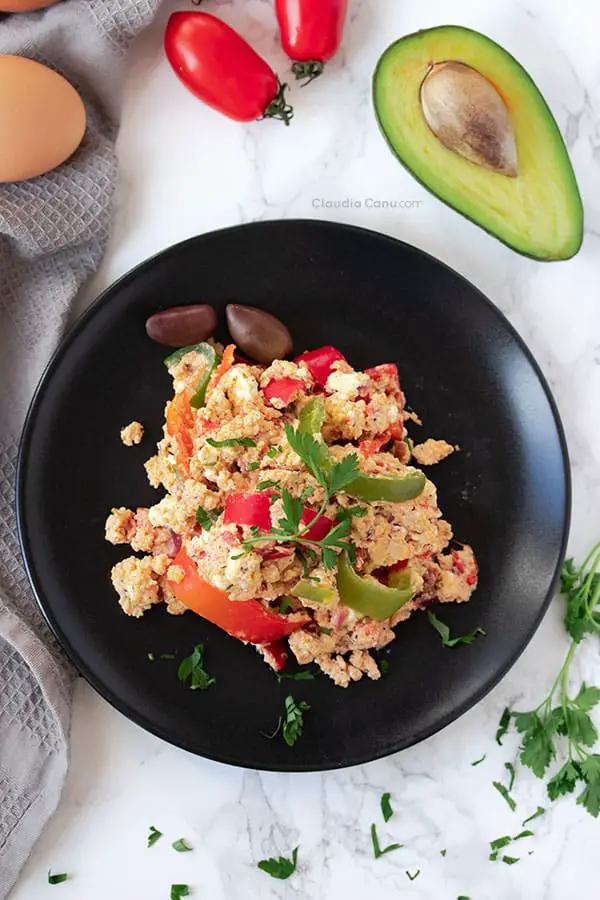 Is it inexpensive to prepare Bulgarian Mish Mash?
As it happens in most culinary traditions, this recipe has become traditional because it's easy to find the needed ingredients and, in addition, their price is usually affordable.
When to eat a Mish Mash
As one of the main ingredients of this recipe are eggs, it makes a good option for an original brunch recipe. Also, if you are one of those who eats eggs for breakfast, this might be a new idea to add to your list.
This recipe, moreover, travels well. You can, for example, put it in an airtight container to take it to work and it's a perfect option to take to a vegetarian barbecue.
At the various BBQs I've been to here in Bulgaria, everyone is always happy when someone brings Mish Mash 🙂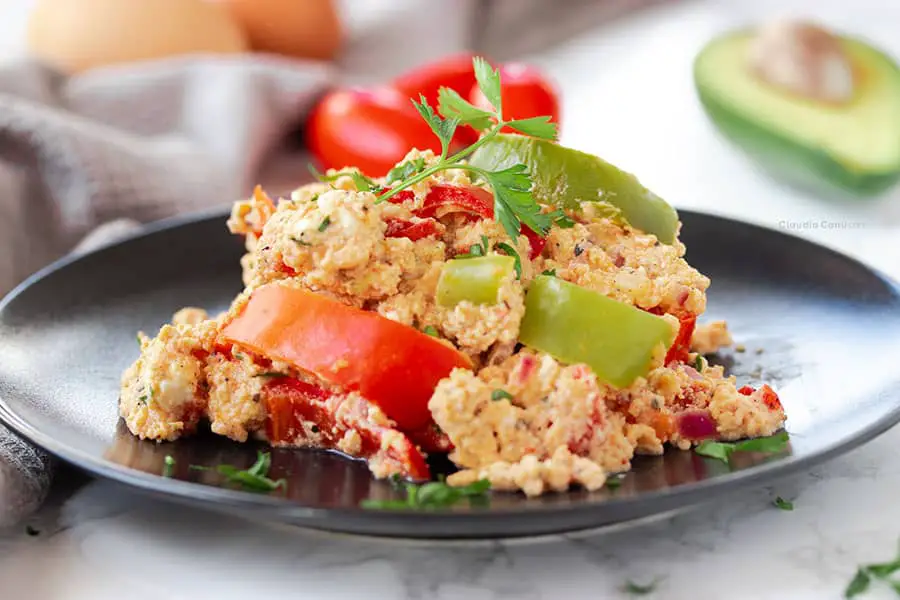 Is it possible to store Mish Mash?
If you have leftovers, you can store them in the fridge in an airtight glass container and it'll keep it fresh for two or three days.
If you'd like to eat it for breakfast, this recipe easily makes two or three breakfasts and you can heat it in the microwave. You can prepare it in an evening and it'll save you some time for the next few mornings.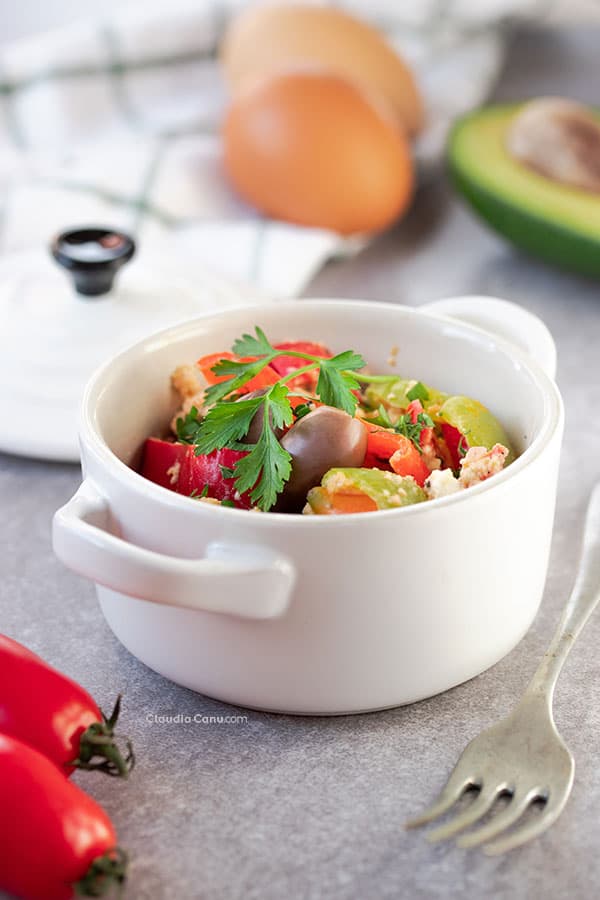 Can I prepare Mish Mash with other ingredients?
This recipe could go well with many other ingredients, but if we change the main ingredients, it would no longer be the authentic Mish Mash, typical of Bulgaria.
If you like aubergines, however, I'd like to invite you to read the Mirza Ghasemi's post. It's also a recipe with eggs, but it originates from Iran. In my personal version, I've decided to add the egg on top, but the original version has the eggs mixed with the eggplants.
Here are some other breakfast or brunch recipes with eggs to start your day with:
Your turn: Have you ever tried Bulgarian Mish Mash? If not, do you think you will give this recipe a try? I would love to hear your opinion and do not forget to leave me a comment below, rating the recipe by using the stars 🙂
As always, thank you very much for stopping by here.
A big hug and cheers to a healthier life!


Tools used to make this recipe: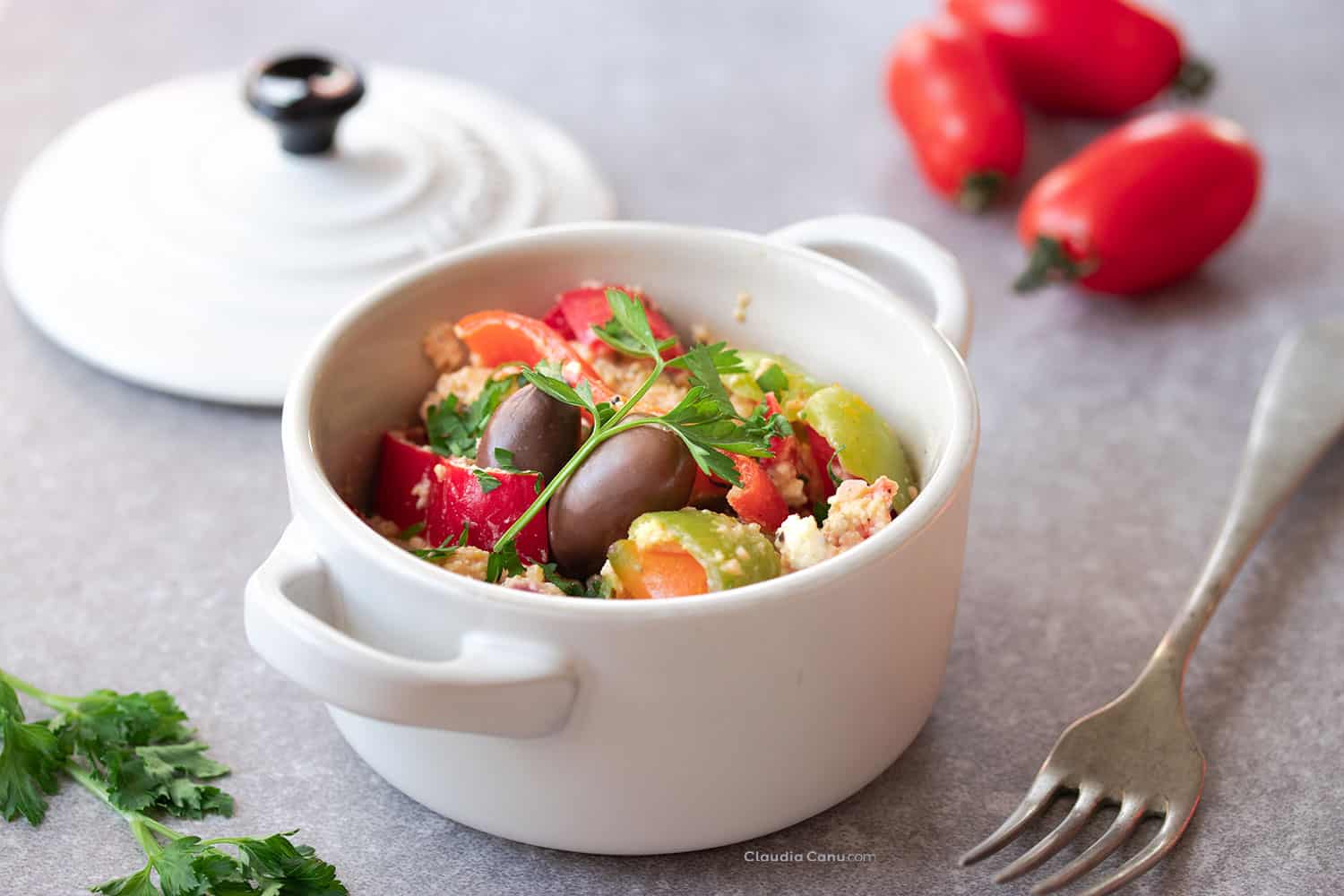 Mish Mash
Mish Mash is a version of scrambled eggs with peppers and cheese that is typical of a Bulgarian culinary tradition and is served in pretty much every restaurant. It's a vegetarian and gluten-free recipe perfect for a Healthy Meal Plan or Batch Cooking.
Author: Claudia Canu
Prep Time:

10 min

Cook Time:

10 min

Total Time:

20 min

Yield:

3

1

x
Category:

Brunch

Method:

Pan-fried

Cuisine:

Bulgarian
Scale
Ingredients
1 tablespoon of Extra Virgin Olive Oil
1 onion
1 large tomato
2 small red peppers
2 small green peppers
5 small eggs
200 grams of Bulgarian cheese (or feta)
1 pinch of salt
1 teaspoon Provençal herbs
½ teaspoon ground black pepper
Parsley to decorate.
Instructions
Cut the peppers in half and in strips.
Cut the tomato into small pieces, but remove the seeds first.
In a bowl, whisk the eggs with the salt, and add the 200 gr of cheese.
Chop the onion into medium/small pieces.
In a pan, add the oil and fry the onion.
When the onion is golden, add the tomato and let it cook for a couple of minutes.
Add the peppers, stir, then cover the pan and wait for the peppers to cook for about 5 minutes.
Add the eggs and cheese and stir.
Add the 1 teaspoon of Provençal herbs and the ½ teaspoon of ground black pepper.
Stir until the egg is cooked.
Garnish with parsley.
Serve hot.
Keywords: gluten-free, vegetarian, healthy, brunch, breakfast, healthy brunch, healthy breakfast, easy, simple recipe, eat healthy, easy to make
Recipe Card powered by