These homemade and old-fashioned cookies are flourless, gluten-free and they are naturally sweetened. They are healthy, soft, easy to make, and they are ideal for breakfast, snack, brunch or even dessert. Plus, they are perfect to be added to your Healthy Meal Plan.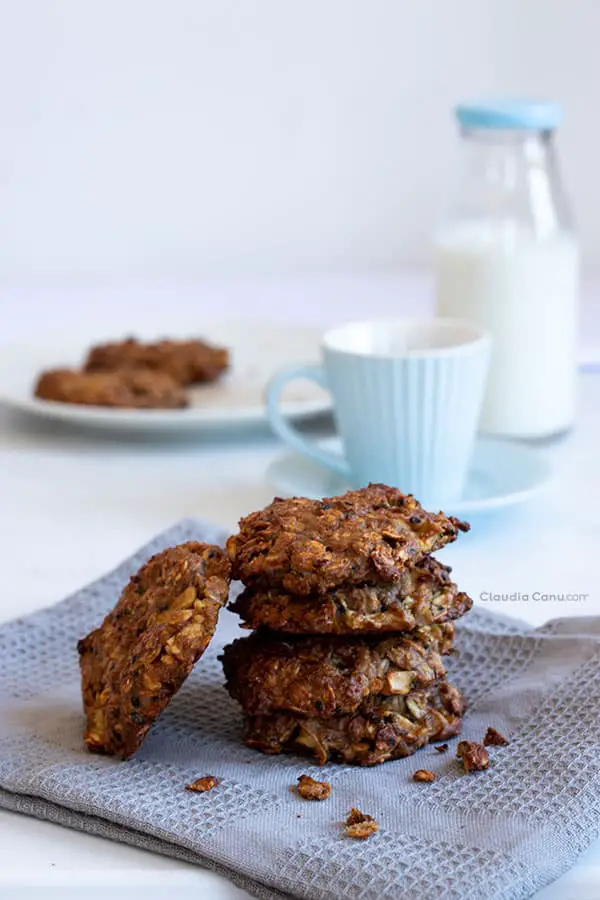 How to prepare these easy oatmeal cookies
You don't need to be an expert in the kitchen or have special and expensive appliances to be able to prepare these soft and delicious cookies.
As you can see in the video, for convenience and to save time, I used a simple food processor, but it's not essential and you can mix all of the ingredients by hand.
What's important, though, is to have a good non-stick tray like the one that I bought at Claudia & Julia's online store.
WATCH HOW TO MAKE THESE EASY OATMEAL COOKIES (61 sec)

Why do I consider these flourless oatmeal cookies to be healthy
The reasons why I consider these cookies healthy is mainly because of the ingredients they are made of:
Rolled whole oats
One of the main ingredients in this recipe is the rolled whole oats. In my post Coffee Overnight Rolled Oats, I already explained about the anti-inflammatory and antioxidant properties of this food, as well as the content of its soluble fiber. In addition, I specify that it's highly recommended that you buy organic whole oats.
Free of processed sugars
If you have seen my recipe for gluten-free muffins, you already know that I prefer to use the least amount of sugar and I avoid the use of processed sugars by using fruit instead. In this recipe, the sweetness is provided by dates, figs, apples, coconut, and cinnamon.
Once, I remember when a friend told me that she had bought some cookies for her son and, as she could deduce from the nutritional values, she was pretty sure that those cookies were healthy. I asked her to send me a photo of the ingredients. While reviewing them, I saw that the first two on the list were flour and sugar.
She was very disappointed when I explained that these two ingredients are among the worst that she can give to her son. At that moment, I also took a mental note to create an easy recipe for moms like her, who want to give the best to their children… a recipe that they could prepare in a very short amount of time, that is healthy and also delicious.
Sesame seeds
In a 2016 study, in which several scientific pieces of evidence had been analyzed about the effect of sesame seeds in individuals with hypertension, dyslipidemia, and Type 2 diabetes, relevant effects were shown suggesting that they could increase the antioxidant capacity.
But, apart from its antioxidant power that helps fight diseases such as diabetes, sesame seeds are also high in magnesium, calcium, phosphorus, and zinc. In general, sesame seeds, as well as other seeds and nuts, belong to a healthy diet, providing a type of fat and proteins that are not inflammatory to the body.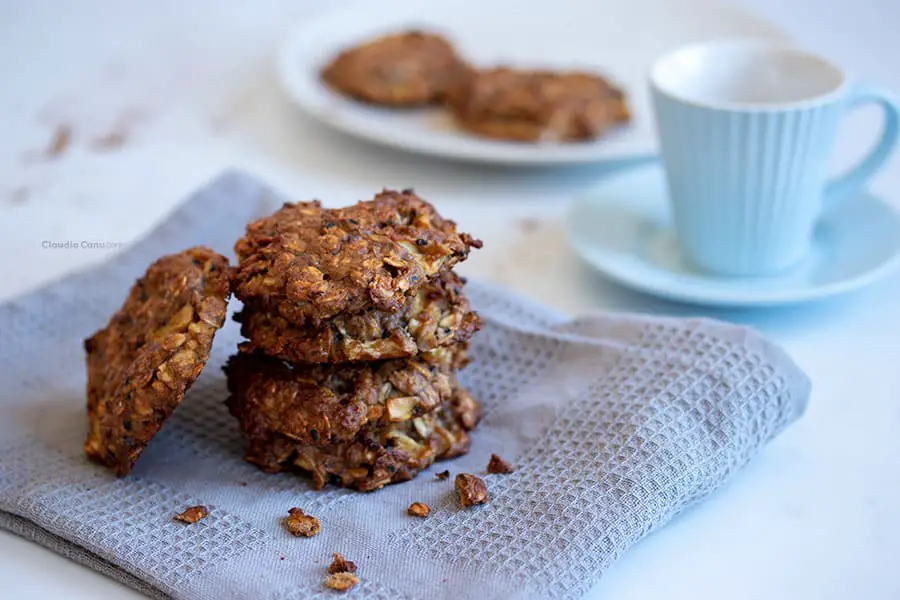 The best time to prepare these easy oatmeal cookies
These cookies are ideal for any season of the year.
I remember a friend told me once that, during the winter, she likes her breakfast to include cookies that she could soak in her hot coffee and that, for this reason, she used to buy "light" oatmeal cookies at the supermarket.
If you have already read other posts of mine, you surely know that my advice is to run away from all of the products that have the claim "light". Right now, I am writing my Master's Degree thesis on nutrition, which will later be transformed into an online course. It's there that I explain very well how we ended up eating products with that claim. I also tell you, with more details, why it's important to avoid these types of products.
And going back to my friend, I'll make sure to send her the link to this post so that she has a healthy option for a winter breakfast. And if you also think that "light" cookies are the best option for you, I would like to invite you to always read the list of ingredients of the food that you buy. Also, dedicate less than an hour of your time to prepare these easy oatmeal cookies, which can be stored for many days and are also delicious.
Finally, if you think that one of the ingredients of this recipe is not on the list of your favorites, I invite you to read the below paragraph "Different flavors, other ingredients" where I give you more ideas to do more taste tests to find the flavor you prefer.
What is the best way to store these soft cookies
As you will see, these cookies are quite soft, but depending on how you store them, they can dry out and become hard. One of the best options to store them is by using an airtight glass container to maintain their softness.
Another option is to use an airtight plastic bag. This is what I use when I want to take them somewhere. Due to the fact that they are soft, they can be transported very easily and they don't break, so you can take them to work, to the beach or when you are on the road.
When I traveled to Serbia, I took a few in a plastic bag with a double seal and they held their freshness for about 10 days.
Finally, you could also store them in the freezer and take them out a couple of hours before you know you're going to eat them. The version with apples loses a bit of consistency, but if you make them with blueberries or chocolate chips, they keep a very similar consistency once thawed.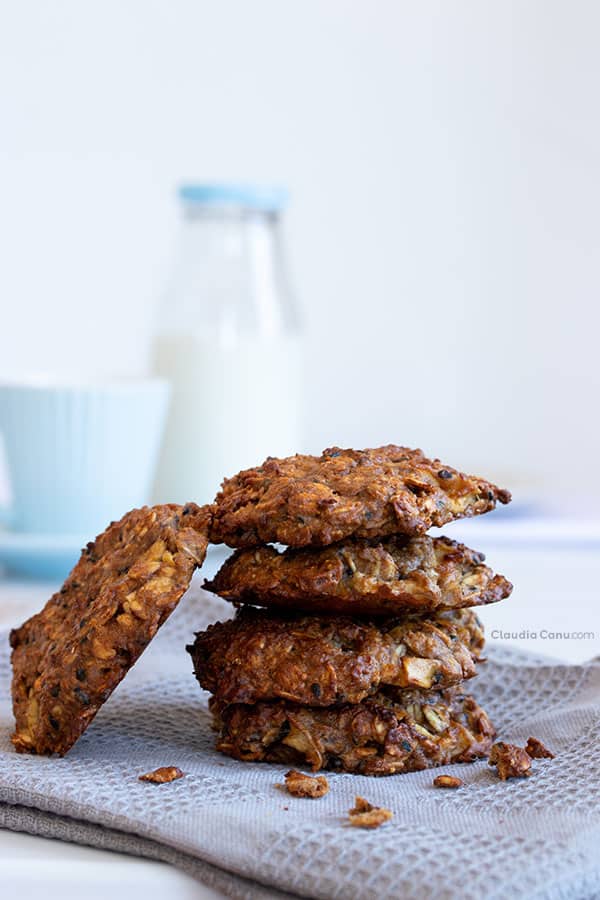 When it is advisable to eat these cookies
They are ideal for breakfast, as a snack, brunch or even as a dessert.
If you have them for breakfast, you can soak them in your coffee, milk or tea. If you prefer, you can also warm them up for a few seconds in the microwave.
I must confess that, whenever I have healthy Nutella in the fridge, it's very likely that I warm up a cookie and spread some Nutella on top. Geeezzz, I'm drooling just by thinking of one of those right now.
Finally, if you are one of those people who need dessert after eating, these homemade oatmeal cookies are definitely a healthy option. I would like to remind you, though, that it's better if you are not eating them all of the time, like one for breakfast, one as a snack and one for dessert. That would definitely be too many for one day.
And, in general, that would be too much of the same food, and we know that, if you eat too much of something, it is likely that you are eating too little of something else. I'd like to remind you of the importance of a varied diet.
Different flavors, other ingredients
As I mentioned above, these cookies can be made in many different ways.
I've already tried a version with blueberries and one with chocolate chips and the truth is that both were delicious. You could even try adding raisins, nuts or seeds. I encourage you not to be afraid in the kitchen, to experiment with flavors and quantities.
In this recipe, I used peanut butter because it was the one I had at home when I shopped for this recipe, although it's not what I usually buy. My recommendation is that you give priority to almond cream or tahini.
For more recipes with apples:
Your turn: Have you ever tried oatmeal cookies before? If not, do you think you'll give this recipe a try? I'd love to hear your opinion and don't forget to leave a comment and choose the number of stars you'd give to this recipe 🙂
As always, thank you very much for stopping by.
A big hug and cheers to a healthier life!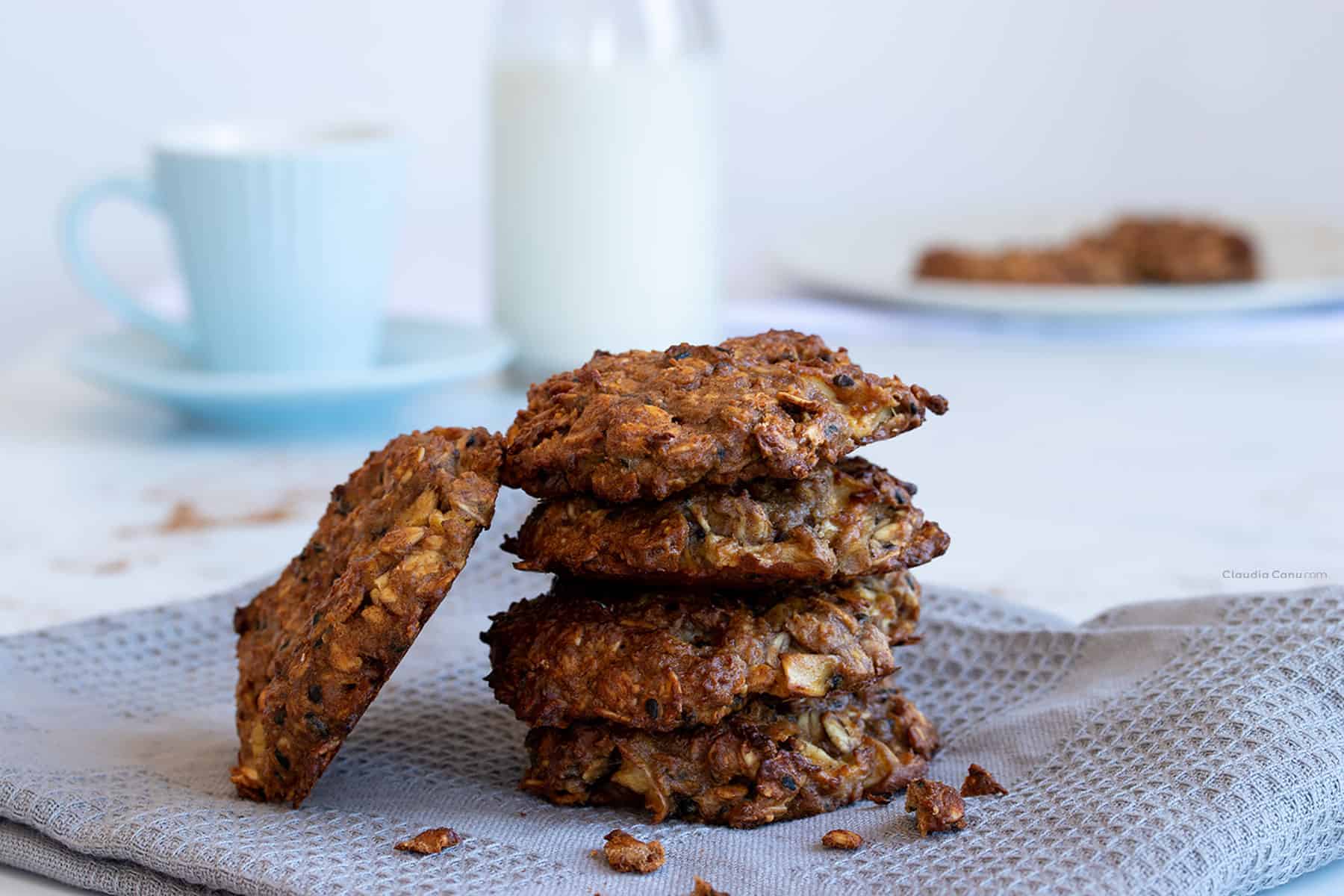 Healthy Oatmeal Cookies
These homemade and old-fashioned cookies are flourless, gluten-free and they are naturally sweetened. They are healthy, soft, easy to make, and they are ideal for breakfast, snack, brunch or even dessert. Plus, they are perfect to be added to your Healthy Meal Plan. 
Author: Claudia Canu
Prep Time:

30 min

Cook Time:

15 min

Total Time:

45 min

Yield:

13

1

x
Category:

Breakfast

Method:

Baking

Cuisine:

Healthy
Scale
Ingredients
3 dried figs
3 Medjool dates pitted
2 eggs, organic
¼ cup of peanut butter
¼ cup of shredded coconut
½ tablespoon of cinnamon
¼ teaspoon of baking powder
⅛ teaspoon of baking soda
1 cup rolled whole oats (gluten-free if necessary)
1 tablespoon of black sesame seeds*
1 apple, cut in cubes
Instructions
Soak the 3 figs and 3 dates in hot water for 10 minutes.
Heat the oven to 180ºC (350ºF).
In a food processor, place ¼ cup of shredded coconut, ¼ cup of peanut butter, ½ tablespoon of cinnamon, ¼ teaspoon of baking powder, ⅛ teaspoon of baking soda, figs and dates, and the 2 eggs.
Process all of the ingredients for a few minutes until they are fully incorporated and there are no large pieces of figs or dates.
Pour the dough into a bowl and add 1 cup rolled whole oats, 1 tablespoon of black sesame seeds and the apple, cut into cubes.
Mix all the ingredients until they are well incorporated.
In a non-stick tray, place 1 or 2 tablespoons of dough for each cookie until you finish all of the dough.**
Give it the shape of cookies and place the tray in the oven at a medium height at 180ºC (350ºF).
Depending on your oven, in about 15 minutes your cookies should be ready. You will know they are ready when they have changed to a golden color.
Notes
* You can also use the white sesame seeds or you can even not add them. **You can decide if you prefer your cookies to be bigger by adding a bigger quantity of dough.
Keywords: gluten-free, dairy-free, vegetarian, healthy, snack, easy, simple recipe, eat healthy, easy to make, on the go, portable snack, quick, budget
Recipe Card powered by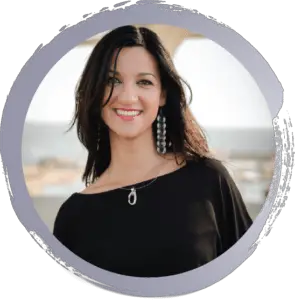 Hi, I'm Claudia
I'm a Health Motivator, I hold a master's degree in Nutrition and Dietetics and I'm dedicated to making it easier for you to live a healthier life.
More about me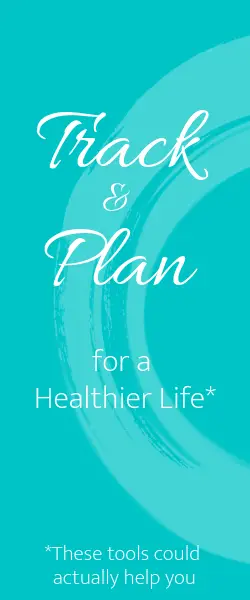 Subscribe to the blog