This recipe for a coffee overnight oats is a simple breakfast to prepare, is easily adaptable into a takeaway format and it's perfect to add it to your Meal Plan. For a gluten-free version, you only need to use gluten-free oats and for a vegan version, it is sufficient to substitute yogurt with soy yogurt.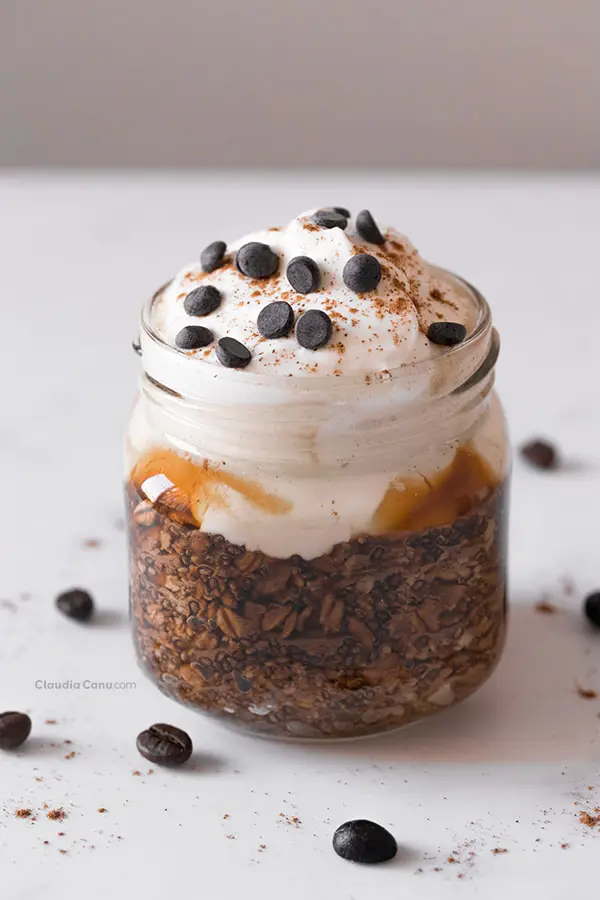 How to prepare overnight oats with coffee
For many years, I used to start my day drinking coffee and, after a few years in Barcelona, my Coffee & Brunch blog took me on a new journey to discover what specialty coffee is. So, as I understand the desire to start the day with the taste of coffee in your mouth, I thought of this coffee overnight oats so that coffee lovers can have a healthy breakfast with a flavor they love.
Preparing it is very simple:
The night before, mix the oatmeal with all of the other ingredients.
In the morning add the yogurt, and the chocolate chips, if you wish.
Heads up: some of the products I mention below may contain affiliate links and should you decide to buy anything, I'll earn some tea money that I'll be sipping while creating more free content for this blog. Thanks a lot for your contribution 🙂
HOW TO PREPARE THIS COFFEE OVERNIGHT ROLLED OATS (31 sec)

Are looking for a great gadget to make your coffee? Consider buying an AeroPress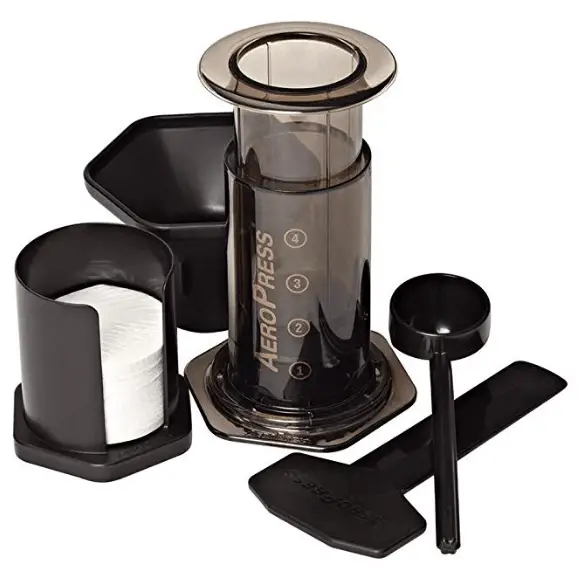 Why is this coffee overnight rolled oats healthy?
Rolled whole oats:
In a study of 2017, it was confirmed that oats are a good source of soluble fiber, especially of β-glucans that have important functional and nutritional properties.
It is considered that beta-glucans are the largest active component of oats, thanks to its anti-diabetic effects and in reducing cholesterol. However, it has been shown that the benefits of oats even go beyond fiber, thanks to its bioactive phytochemicals with important antioxidant and anti-inflammatory effects.
In addition, in a 2016 study, it was shown that the daily consumption of whole oats had a prebiotic effect by feeding the bacteria of the gut microbiota, causing a significant reduction in the concentrations of total cholesterol and the "bad cholesterol" LDL.
Finally, another study published in 2016 has shown that eating oatmeal in the morning satiates more than eating just oranges.
IMPORTANT: When you buy the oatmeal, take a very good look at the label. What you want to buy is whole oats that are not processed and that do not carry any other ingredient.
Ideally, you should buy organic whole oats since part of their shell remains and in the shell is where fertilizer chemicals are concentrated. If you are based in the US you can buy organic old fashion rolled oats – even gluten-free – at Thrive Market online and with great discounts.
Chia seeds:
I already told you about the benefits of chia seeds in my chia and linseed pudding recipe.
Yogurt and kefir:
Yogurt and kefir are a good source of probiotics. Probiotics are the beneficial bacteria that live in the intestine and form what is called gut flora or microbiota. These bacteria facilitate digestion and absorption of nutrients, and they also strengthen the immune system.
Following my philosophy of eating a varied diet as much as possible, I usually alternate the consumption of yogurt with kefir and for both, I change with products from cow, sheep or goat.
I remind you that, if you can consume dairy products, it is important that you consume them as organic, or better yet, coming from grass-fed animals. Local products tend to be produced on small farms that let their animals grow as nature has taught, without injecting them with antibiotics or feeding them grains and corn.
It is also important that you consume whole, and not skim, milk. The main reason is that, very often, the skimmed products carry sweeteners to supplement the flavor provided by the fat. In addition, fat helps our digestive system to correctly digest and absorb all of the nutrients. And finally, always keep in mind that nature is wiser than man.
Coffee:
A large-scale observational study, published in August 2018, indicates that coffee consumption is inversely associated with mortality and can be part of a healthy diet. However, there is much more information about the negative side of caffeine. So, as always, moderation is the solution: 1 or 2 coffees a day can be beneficial, but more can be harmful.
Also, always remember to listen to your body. Does coffee really feel good to you or are you just addicted to the effect of caffeine?
I can't drink coffee as I used to anymore, but I usually have decaffeinated coffee at home and every now and then, I make myself one. This way I can benefit from the nutrients of coffee, but without ingesting caffeine.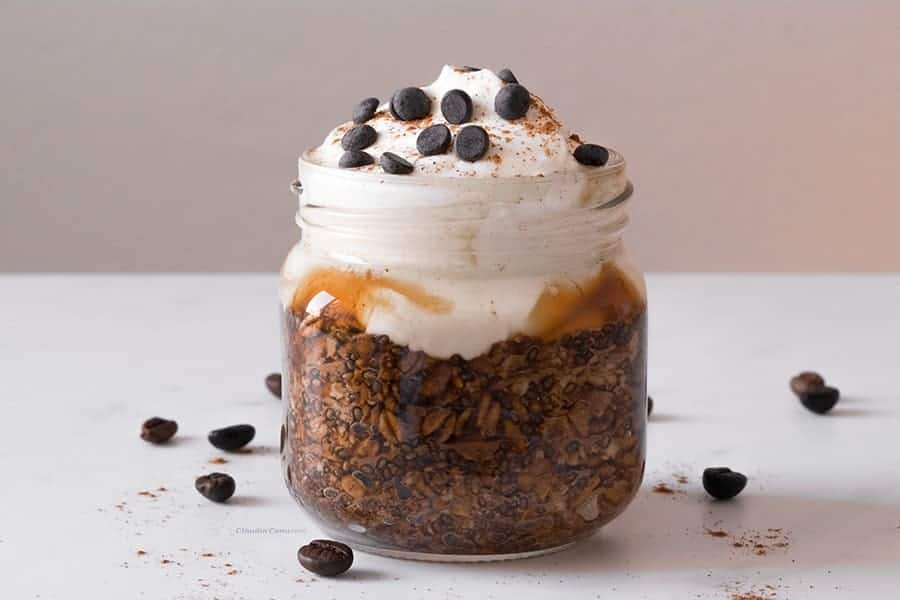 Is it inexpensive to prepare this overnight oats with coffee?
As I mentioned above, my recommendation is that you consume whole and organic oatmeal, which, unfortunately, is more expensive than the one you can find in the supermarket. The same goes for yogurt or kefir.
Will it be more expensive if you buy organic products? Yes, we know it's more expensive, but I have calculated that by buying organic products in Barcelona and using specialty coffee, this breakfast costs less than 1€ and you also use very little of your time to prepare it.
If you would like me to do the exact calculation of the costs, leave me a comment below and I will add all of the detailed information.
Some tips to save money:
In many occasions, it is possible to buy the oatmeal in bigger packages, which will come out less expensive or, it's very likely that buying in bulk will be even less.
The same for goes for yogurt or kefir. I usually buy the big pot and use about 3 to 4 tablespoons in each breakfast. In addition, organic yogurts and kefirs usually go in glass jars. So while I take care of myself, I also help the environment, so two birds with one stone!
When to prepare these overnight oats
As I mentioned above, preparing this oatmeal will take just a few minutes of your time. Ideally, prepare it at night before going to bed or while preparing your dinner.
This recipe, prepared as described, is a fresh breakfast and ideal for summer. However, if you prefer a warm breakfast in winter, you can heat the pot with oats and coffee in the microwave before adding the yogurt. Keep in mind that, by doing this, the oatmeal will change its consistency to being stickier.
What I usually do is take the oatmeal out of the fridge as soon as I get up in the morning so that it has already reached room temperature before heating it.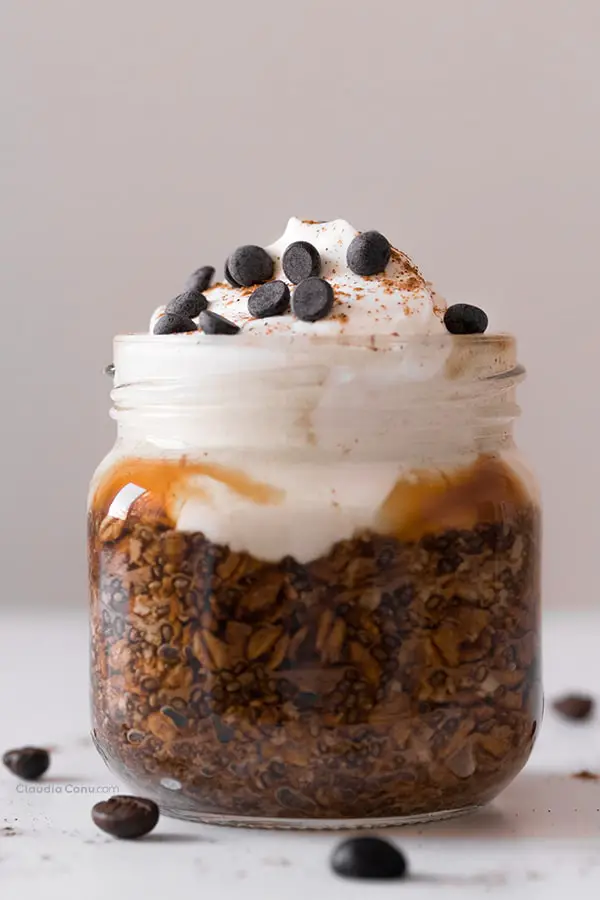 How to store this coffee overnight oatmeal
The oats with coffee and chia lasts several days in the fridge, so if you want, you could even prepare in one day the amount needed for the entire week.
Once you have added the yogurt, it is advisable to consume it as soon as possible, although it can last one day in the fridge.
Occasions to eat coffee overnight rolled oats
Not only is it a practical breakfast to eat at home, but this oatmeal is also easy to take to work, or wherever you are going in the morning. To do that, just use one of those glass jars that we love to recycle 😉
These overnight oats, in addition, are an ideal option for a healthy snack. The only thing you have to keep in mind is that if, for some reason, you can't drink coffee in the afternoon, you had better use decaffeinated coffee.
And finally, this coffee overnight oats will be a success for a homemade brunch, especially if you have guests and you don't have much time in the morning. You can prepare the oatmeal in individual jars at night and in the morning you simply add the yogurt.
Different flavors, other ingredients
If you like coffee but you can't, or prefer no caffeine, the solution is easy… use decaffeinated coffee. And if the taste of coffee seems too strong, you can mix it with some milk of your choice.
This recipe doesn't have any added sweetener because, for my taste, the sweetness provided by the yogurt, cinnamon and chocolate chips is enough. However, if you think you need it, you can add your favorite sweetener.
As I have already written above, you can use kefir instead of yogurt, but keep in mind that kefir is more liquid.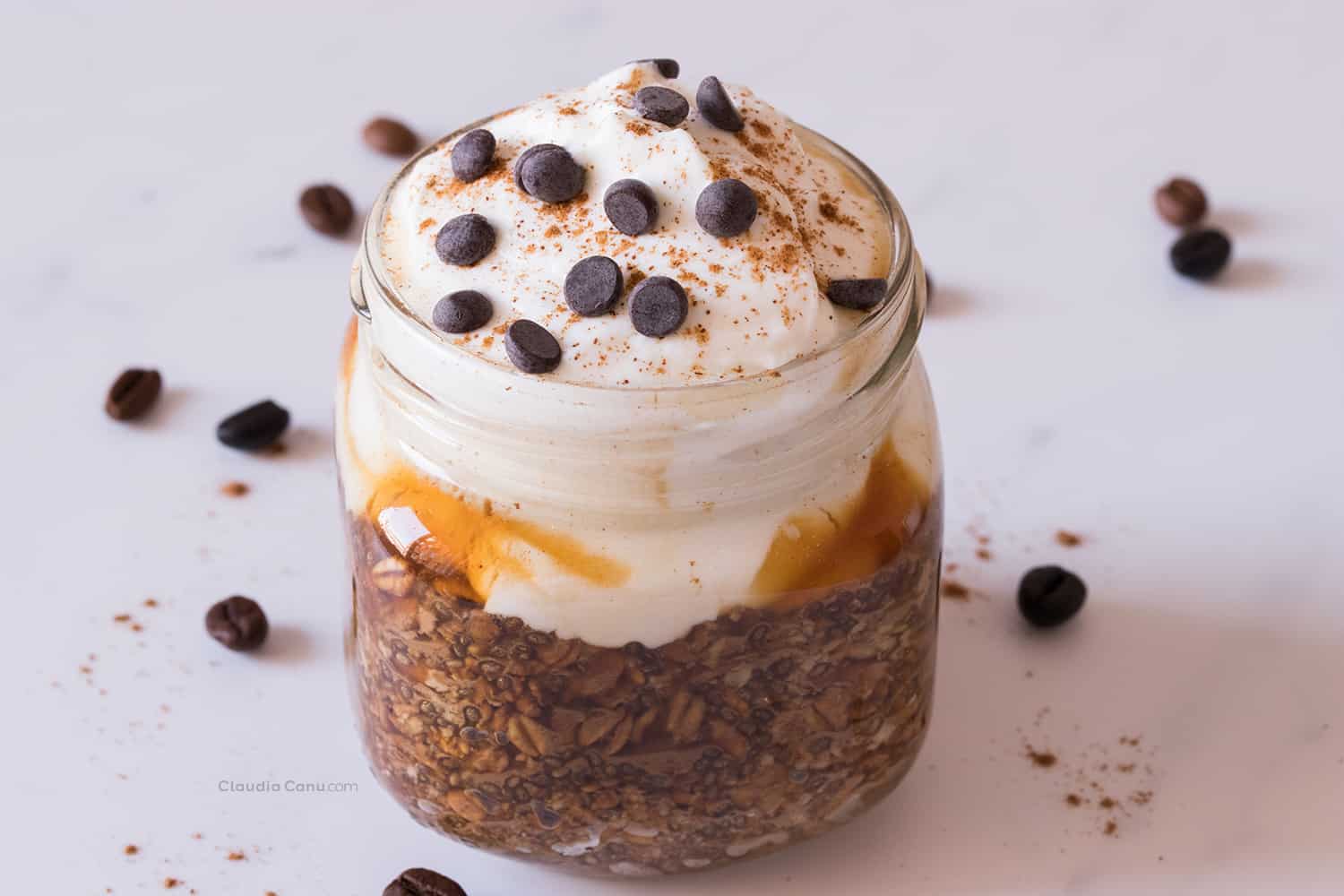 If you prefer, you could also add flax seeds and it would look a little more like this recipe for chia and flaxseed pudding.
The chocolate chips are optional. You could sprinkle pure cocoa on top or grated chocolate. I remind you that it is better to consume dark chocolate that has more than 70% cocoa. The higher the percentage, the less sugar you ingest.
Finally, if you would like to add a crispy touch to this oatmeal, you can add granulated almonds.
Now it's your turn! Do you have any questions about the content of this post?
Leave a comment below if you try this recipe and don't forget to evaluate it using the star system.
As always, thank you very much for your visit.
A big hug,


Coffee Overnight Rolled Oats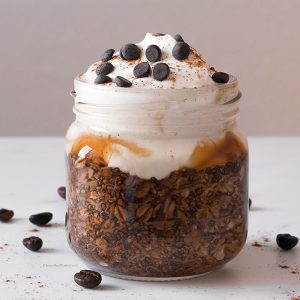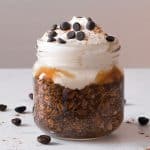 This recipe for a coffee overnight oats is a simple breakfast to prepare, is easily adaptable into a takeaway format and it's perfect to add it to your Meal Plan. For a gluten-free version, you only need to use gluten-free oats and for a vegan version, it is sufficient to substitute yogurt with soy yogurt. 
Author: Claudia Canu
Prep Time:

10 min

Cook Time:

0 min

Total Time:

10 min

Yield:

1

1

x
Category:

Breakfast

Method:

No cooking

Cuisine:

Healthy
Instructions
Pour ⅓ cup of oats into a glass bowl** and add ½ Tablespoon of chia, ¼ teaspoon of cinnamon and ½ cup of coffee.
Let it sit overnight in the fridge.
In the morning, add the yogurt and decorate with chocolate chips and cinnamon.
Notes
*If you feel that using only coffee will have too much of a strong taste, you can mix it with the milk of your choice. **For a take-away version, prepare the oatmeal directly in a glass jar with a lid.
Keywords: gluten-free, vegetarian, healthy, easy, simple recipe, eat healthy, easy to make, on the go, breakfast, portable snack, portable breakfast, oats, overnight oats, coffee, yogurt
Recipe Card powered by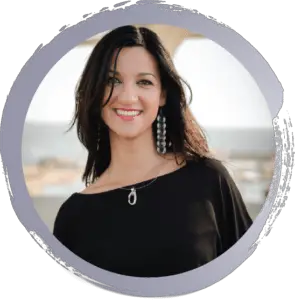 Hi, I'm Claudia
I'm a Health Motivator, I hold a master's degree in Nutrition and Dietetics and I'm dedicated to making it easier for you to live a healthier life.
More about me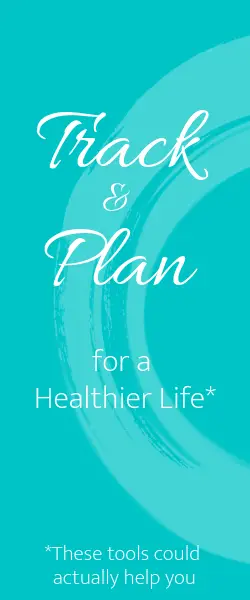 Subscribe to the blog