June 11, 2018, 8 am, Canggu, Bali. I'm sitting in front of my computer trying to remember something interesting that happened to me in the month of May so that I could write a useful post about the experience. My mind is blank. Nothing happened in May. I was in Barcelona, I kept working on my challenge, but I didn't do anything new.
Breakfast arrives and I start talking to a housemate. I tell him about my frustration because I don't know what to write about for May because nothing new happened, and that the only thing I can think of to write about are the new habits I've developed during the last few months that have helped me during my challenge.
At that point, he asks me, "Do you still keep all of those habits? Because if nothing new happened in May, but you continued with those habits, then that's a thing to write about."

It's amazing how a different perspective can add so much meaning to something that might seem less important, right?
Today, June 14, 2018, 7:38 am, I am sitting on the balcony of my accommodations in Ubud, again in front of my computer, enjoying a very authentic view, listening to the birds, a rooster from the distance and a fountain in front of the swimming pool, feeling infinitely grateful for my life and for the fantastic experiences that it is bringing to me.
Being grateful for my experiences and my life is one of the habits that I've introduced in my life since I've started my challenge, but it's not the only one.
I don't remember exactly in what order I managed to create, and maintain these habits, but here is the list that does not follow any specific order because they all have the same importance, all of them helped to reach what I was looking for, the best version of myself physically, emotionally and mentally.
Heads up: some products I mention below may contain affiliate links and should you decide to buy anything, with no extra charge for you, you are contributing to having more free content on this blog.
Meditation
I had tried several times in the past to introduce meditation into my daily life, but for some reason, it never became a daily practice, until I tried it again when I was traveling in Malaysia, being inspired by the fact that a friend was going to Myanmar for a ten-day retreat.
I have been meditating almost every day since January, except for two days since being in Bali. Distractions and lack of organization prevented me.
I remember that when I was in Bulgaria and spent the last night in a hostel, I had no place to meditate when I woke up until I arrived at the airport and found a sign showing me where to find the meditation room!
I am not a meditation expert. My practice is quite disastrous because, even though I try to leave my mind blank, there is a river of thought that plow through my head. That's not a reason to give up, though. After all, meditation is a practice and there are many ways to meditate.
I have managed to introduce this habit in the morning as one of the first activities of the day, even before my breakfast. The main advantage of this practice is the feeling of peace that it provides during the day and a reduction of negative emotions that could arise in complicated circumstances.
If you are interested in meditation but you don't know where to start, you may be interested in check one of these cheap courses out.
Workout
In the post Physical Changes After 7 Months Into The Challenge, I have already told you about the workout routine that I was following until April. In May, though, I changed to another Fitness Blender HIIT routine, in which, instead of repeating each exercise three times, you change exercise every 30 seconds. It is designed for people who, like me, get bored easily 😀
This video does not include the cooldown and stretching part, so I keep doing what I learned in the previous video. I also add more stretching exercises that help me improve my flexibility.
Throughout the month of May, it was easy to maintain the habit of training three times a week because I was in Barcelona, but as I told you in the post How to maintain your healthy habits while traveling, it's easy to follow this routine when I'm also traveling because I do not need any special equipment. In fact, what I like most about this type of training is the fact that I can do it comfortably from home, which saves me time and gives me complete freedom with the schedules.
Personally, I prefer to work out in the evening because I feel stronger and I'm more flexible when doing stretches. Also, I love the feeling of tiredness and satisfaction when I go to bed.
Good rest and rising early
In the process of learning about myself, I have discovered that the first hours of the morning are my most productive hours of the day and waking up early helps me be more creative and also a faster learner.
It's for this reason that, when I was studying for the Master's Degree, I used to wake up at 7 o'clock and at 8 o'clock I was already studying for two hours.
That was what allowed me to finish all of the theoretical parts of the Master's Degree in less than 4 months.
In addition, I now know that I am the best version of myself when I get to sleep 8 hours straight and even better if it's a well-rested time. For this reason, I do my best to make rest one of my priorities.
I try to be in bed by 10:30 pm so that I can read a little before going to sleep and then wake up around 7 am. Truth being said, the typical Spanish schedules, such as having dinner after 9 pm, doesn't help to keep this kind of routine. But where there's a will, there's a way, right?

Gratefulness at night
I went through a period when, before going to bed, I would write down in a notebook three things of the day for which I was grateful. I remember sitting on the bed and taking notes in the notebook, but somehow I did not feel comfortable doing it. I wasn't writing everything that went through my mind because I felt in a rush.
I then changed that habit with a similar one. Instead of writing, I only use my thoughts. Once I'm in bed, when I turn off the bedside light, I think about everything that happened during the day and how thankful I am for both positive and less positive experiences.
With this practice, I fall asleep having positive thoughts of gratitude circulating in my head. This practice helps me not only to fall asleep quicker but also to rest better.
Keep learning
Apart from the Master's Degree in nutrition, thanks to which I have been able to solve many questions on food that had me very confused, I still read many books, some related to food and others more about personal growth. I promise that I will make a list with all of those that I have liked the most, to also tell you what each one has helped me with.
Right now I'm reading The Big Fat Surprise, a book in which the author shows, through scientific studies and mistakes in history, that the low-fat diet which we have been advised to follow so far, is not the healthiest one.
I have also become a real fan of TED, a non-profit association dedicated to organizing conferences and talks around the world whose content is shared online for free.
There are videos of very different topics and I have found many related to nutrition.
On their website, they have the most important videos and, in addition, they have a complete list on their YouTube channel.
Both on their page and on YouTube you can create lists for every subject so that you can save the videos that you like the most. I often watch some of these videos during my lunches and dinners, as they represent another way to keep learning.
I believe that the habit of learning more helps us to grow as people and to be better humans, besides giving us the power to fight against the bad information that can be very harmful and controlling. I am very much in agreement with the phrase, "Knowledge is power".
Another option to learn new skills is to sign up on Skillshare where you have FREE access to all the courses during two months and without commitment.
Another very important habit that I have changed during my challenge is related to food, but I have spoken extensively about it in the My Solutions In The Kitchen To Always Eat Healthy And Delicious Food post.
I imagine that this habit, in particular, may change according to the knowledge I acquire, according to the changes in my body and the level of connection that I will continue to have with it.
Anyway, the most important thing is to know that I have been able to eliminate my addiction to industrial sweets and ultra-processed foods, a change that brought very important results.
What about you? Have you recently introduced a new habit into your daily life?
Would you like me to delve more deeply into some of these habits?
Leave me a comment below and tell me everything.
Thank you for your visit!
A big hug and Happy Healthy Life!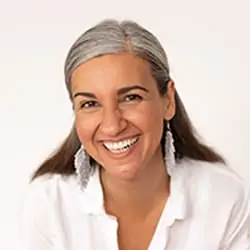 Claudia Canu is a former junk food and sugar addict transformed into a Health Motivator with a master's degree in Nutrition. She has created this website not only to share her "Journey to her Healthy Forties" but also to help other busy women with basic knowledge about nutrition and who don't love cooking, to live a healthier life, and achieve big goals.
To get in contact with Claudia, visit the contact page. To read more about her, click here.