The hazelnut and cocoa spread is a fridge staple that is easy to prepare at home. It's ideal for your breakfast or a healthy snack. It's gluten-free and dairy-free and can easily be adapted to a vegan version.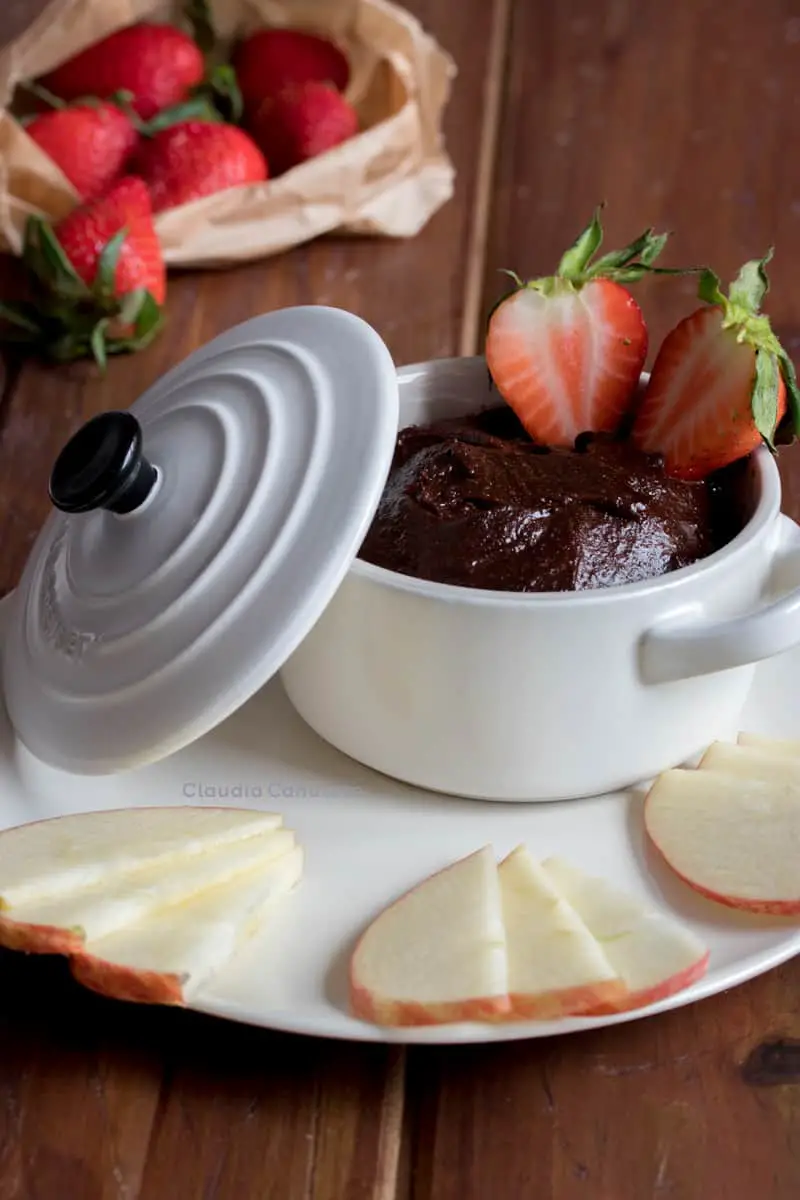 How to make a healthy hazelnut and cocoa spread
To prepare this recipe you will need a food processor, but the instructions are very simple.
Blend the hazelnuts in the processor until they form a cream become creamy.
Add all the other ingredients and turn on the processor again until all the ingredients are well mixed in evenly.
Pour the cream into an airtight glass jar and store it in the fridge.
As you can see the process is very simple and only requires about 20 minutes of your time, from the moment you start measuring the ingredients until to when you store the final product. The result is a delicious healthy hazelnut cream prepared with natural ingredients.
This was one of the first recipes I made when I started eating healthy, and in fact, I published it some time ago on my other blog Coffee & Brunch.
This version consists of equal amounts of cocoa and carob because, personally, I like the sweet touch that the carob adds. If you don't know what carob is, I have written about it in the energy balls recipe post.
Actually, it is not an essential ingredient for the recipe, and if you want, you can replace the carob with cocoa. However, keep in mind that in that case, your hazelnut cream will have more cocoa flavor, and as a result, it will be more bitter.
VIDEO – HOW TO MAKE THIS HAZELNUT AND COCOA SPREAD (59 sec)

When to eat this homemade Nutella
I don't know about you, but I was addicted to Nutella, literally! I always had a jar at my place, I used to start my day eating Nutella and I consumed it when I was stressed. When I started to change my lifestyle to a healthier one, Nutella was one of the first foods that I decided to eliminate from my diet. However, it is always useful to have something sweet in the fridge to be able to satisfy unexpected cravings, especially at snack time.
I often use it for breakfast too and add it to my bowl of oatmeal to add a sweet touch and some healthy fat from the nuts.
You can also serve it as a dessert, or even in a brunch buffet, accompanied with fruit. As you can see in the photo, the mini cocotte that I bought in Claudia & Julia's online store is perfect for a beautiful presentation.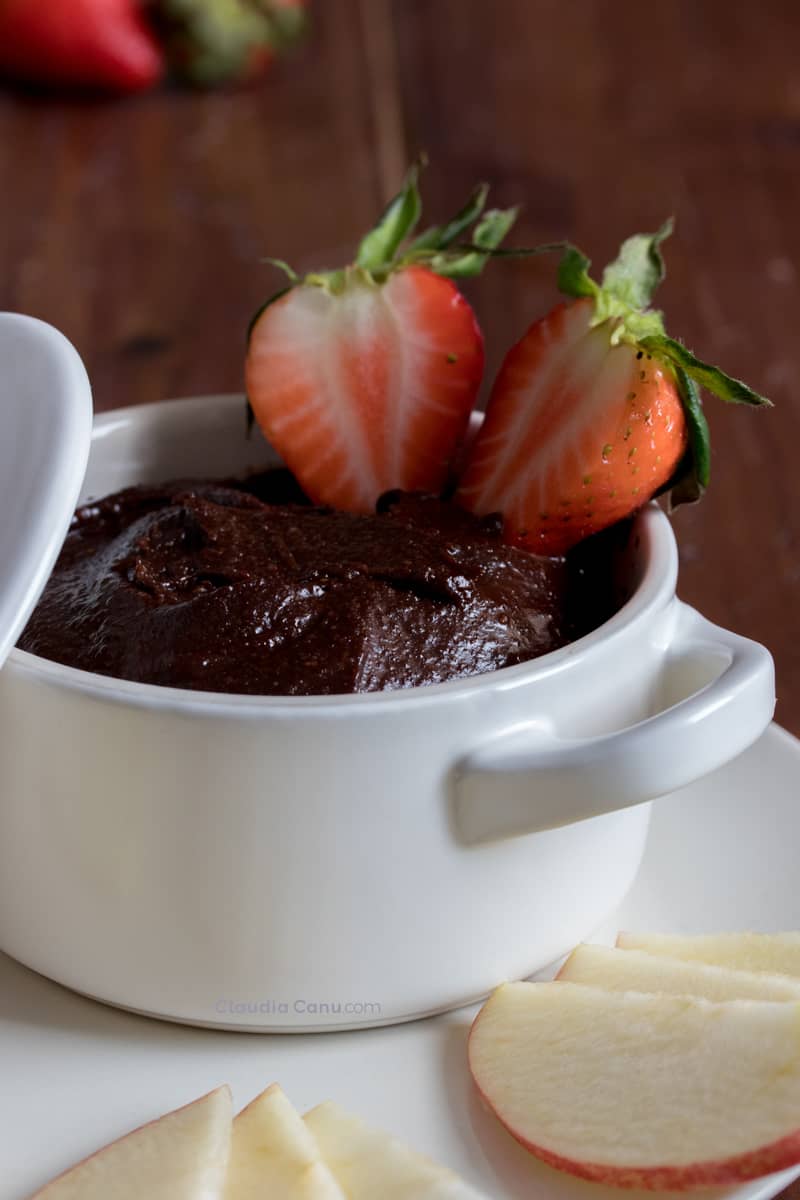 The best way to store this hazelnut spread
Ideally, you should use a glass jar, possibly hermetic, and if you keep it in the fridge it will last about two or three weeks if you don't finish it before then.
If you prefer to make larger quantities, but don't want to keep it in the fridge too long, you can also freeze it. I did the experiment once when I went on a trip. Upon my return, I took it out of the freezer and left it in the fridge. When it finished thawing it was as if it had been in the fridge just for a couple of days.
I also tried the opposite experiment and I kept it in the pantry. It was fall and it lasted about a week. It is clear that the time will vary according to the temperature in your kitchen.
If you would like to take it to work or a picnic, simply store a small amount in a smaller container that fits in your bag. I did this several times when I was working from a coworking space, I would take a couple of teaspoons in a small container so that, in the middle of the afternoon, I could eat it with some fruit.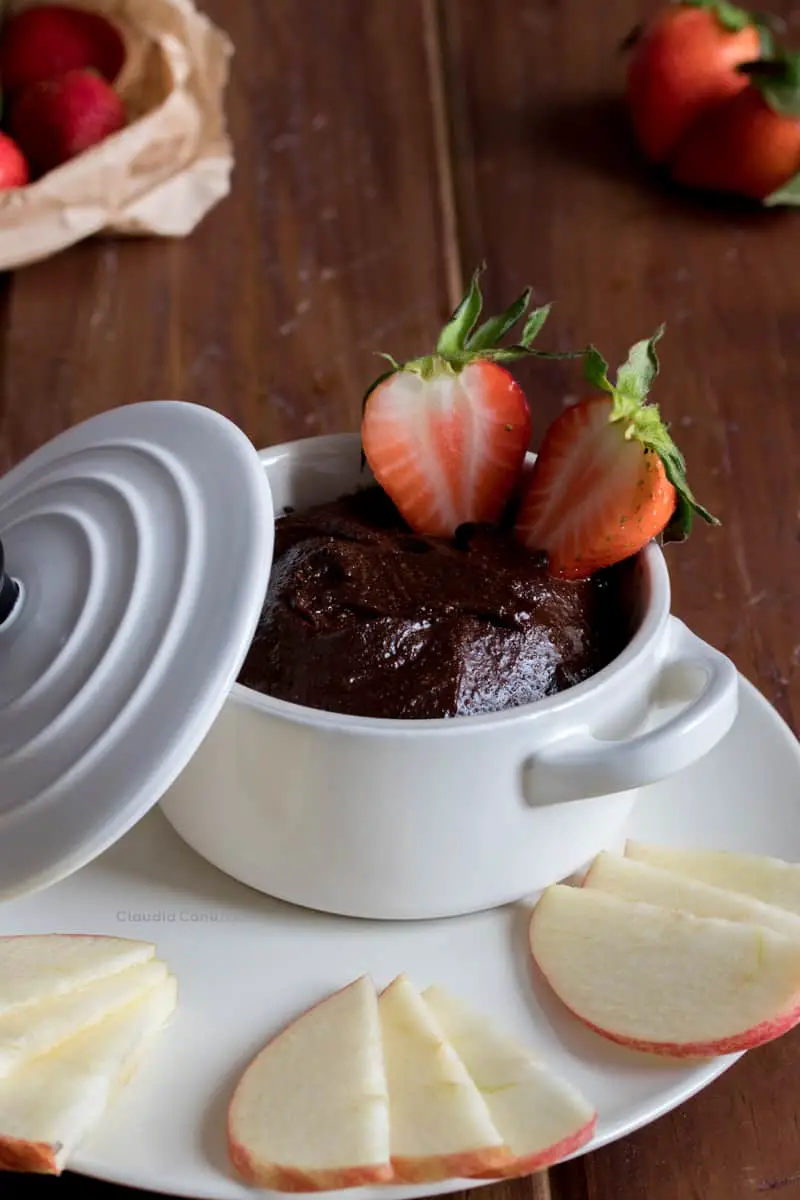 A vegan version of this hazelnut and cocoa spread
The non-vegan ingredients of this recipe are butter and honey. You can substitute butter with coconut oil, in equal amounts, and honey with agave or maple syrup, also using equal amounts.
Personally, I have tried both versions and both are delicious although you can tell the difference between the taste of coconut oil and butter.
Let me know if you decide to try this recipe, and if you like it you can rate it by leaving a comment and using the stars below.
And if you fall in love with this hazelnut and cocoa spread, as I did, don't hesitate to share it with your loved ones to convince them that eating healthy does not mean renouncing the pleasures of the palate.
Thank you for your visit!
A big hug and cheers to a healthier life!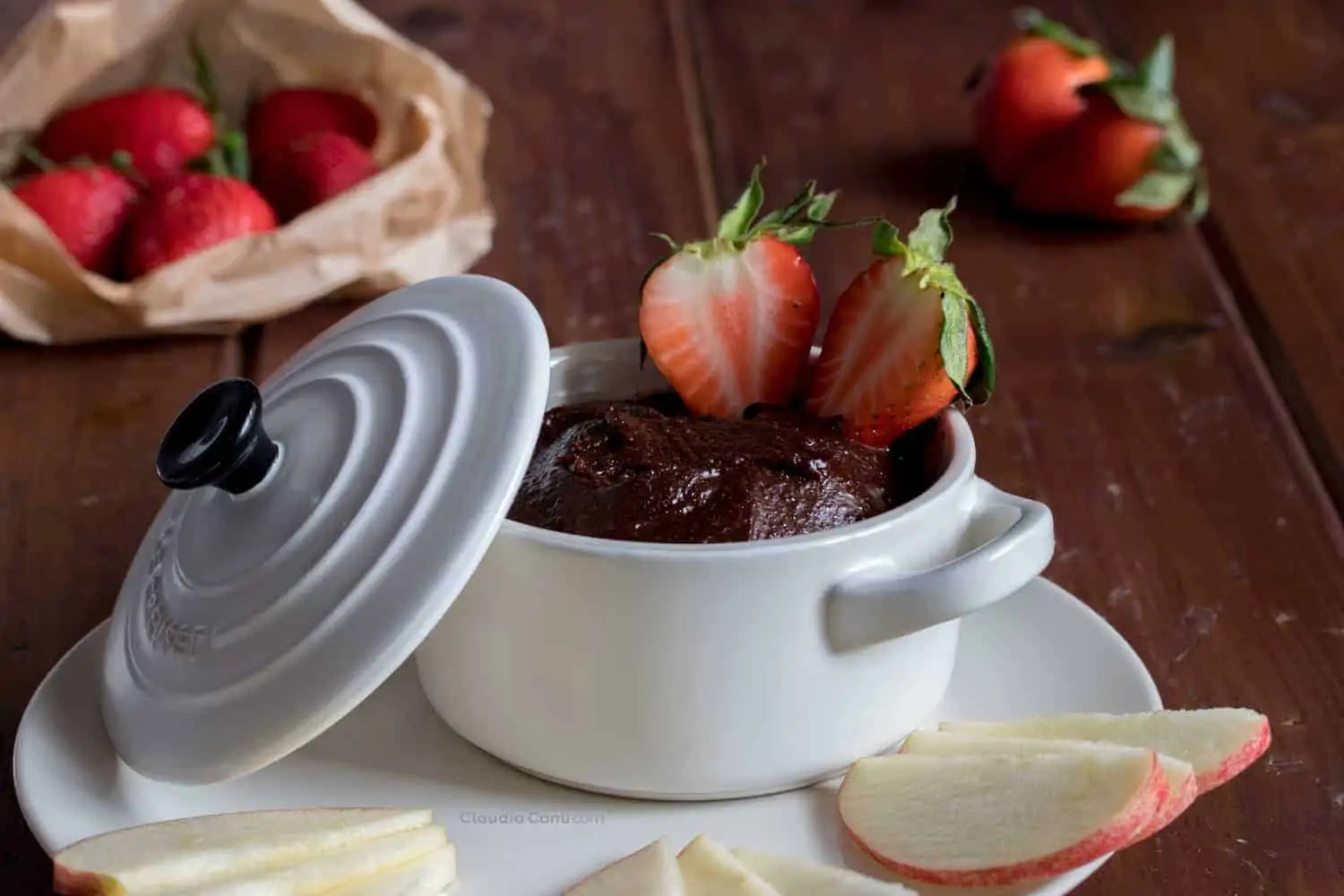 Hazelnut and Cocoa Spread
The hazelnut and cocoa spread is a fridge staple that is easy to prepare at home. It's ideal for your breakfast or a healthy snack. It's gluten-free and dairy-free and can easily be adapted to a vegan version.
Author:

Claudia Canu

Prep Time:

20 min

Total Time:

20 min

Yield:

27

Category:

Brunch

Method:

Food processor

Cuisine:

Healthy
Ingredients
1 cup (130g) toasted and skin-free hazelnuts
2 tablespoons (11g) of powdered pure cocoa
2 tablespoons (11g) powdered carob
1 tablespoon (10g) melted, organic butter
2 tablespoons of raw organic honey
¼ cup (80ml) of milk (any kind you prefer)
⅛ teaspoon of marine salt
Instructions
1. Blend the hazelnuts with a food processor until they become creamy.
2. Add the melted butter, the cocoa powder, the carob powder, the honey and the milk.
2. Blend it again until the ingredients come together to make a spread.
4. Keep the hazelnut spread in an airtight container in the fridge for a couple of hours before eating and also to store it.
Notes
If the hazelnuts still have their brown peel, you can remove it with a kitchen towel. Put the nuts in the middle of the towel, close it up and shake the hazelnuts around. Most will quickly lose their peel, and if some don't then it's no big deal.
Keywords: gluten-free, dairy-free, vegetarian, healthy, snack, easy, simple recipe, eat healthy, easy to make, on the go, breakfast, healthy breakfast, healthy brunch, healthy Nutella, hazelnut spread, chocolate spread, cocoa spread
Recipe Card powered by