These seed crackers are ideal as appetizers or as a snack and they pair well with hummus or other spreads. They are vegan, gluten-free, paleo, lactose-free, and they practically make themselves, so don't forget to add it to your Healthy Meal Planning or Batch Cooking.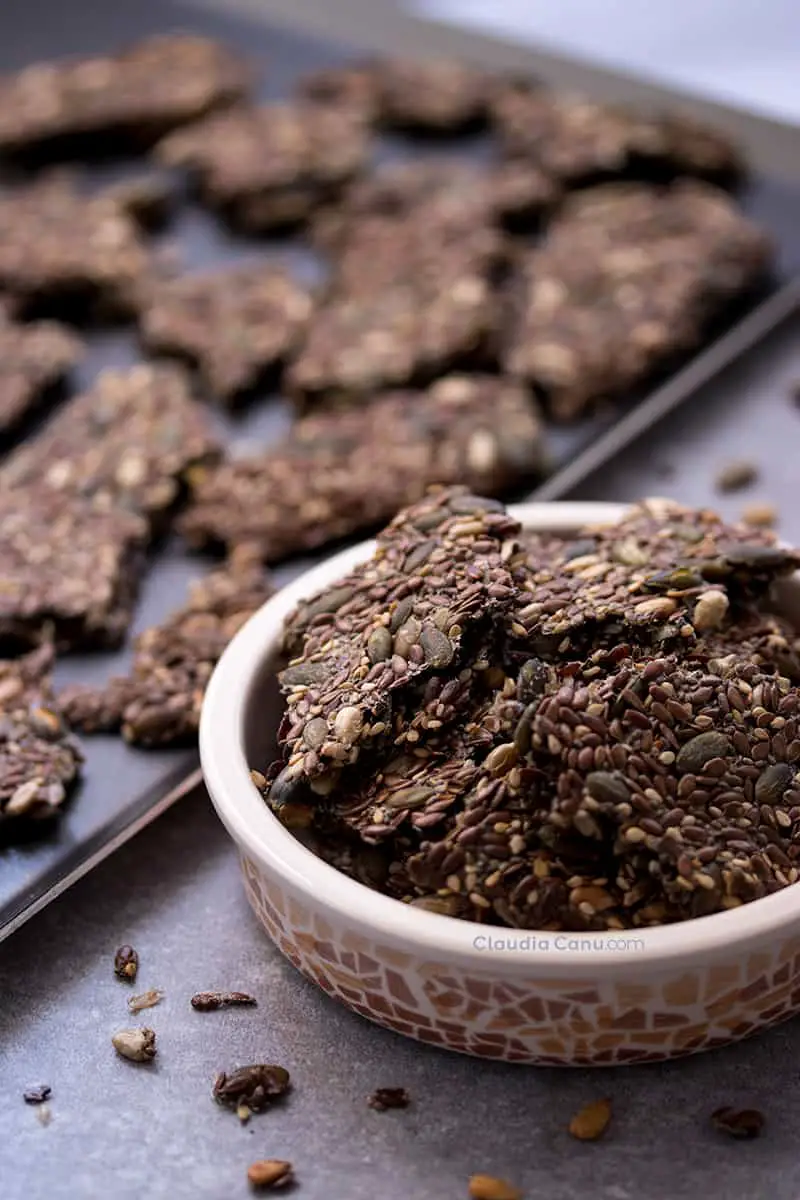 How to prepare seed crackers
To give you an idea of how easy it is to prepare these crackers, here are the basic steps:
Mix the seeds.
Submerge them in water and wait for them to absorb it.
Place them on a baking sheet.
Bake.
To prepare the seed crackers it's important to use a nonstick baking pan. I use one that I bought in Claudia & Julia's store which has been marvelous in many other recipes like the almond butter granola.
Also, be careful when spreading the seed mix on the baking sheet. Be sure that the thickness of the mix is the same on the edges as it is in the center.
This way you will avoid the edges from burning and the center remaining moist.
WATCH HOW TO EASILY MAKE THESE GLUTEN-FREE AND VEGAN CRACKERS (56 SEC):


Why eat seed crackers?
These crackers are a good alternative to those that can be purchased at the supermarket and that often have preservatives, and other ingredients, that you don't want to have in your body.
They are also ideal if you would like to reduce your consumption of bread. For example, if eat it to accompany your meals, or with some spread or cheese as a snack or a quick bite.
Thanks to their large amounts of minerals and essential fatty oils, the consumption of seeds is recommended in a healthy and balanced diet. Here is a link to an article where it is indicated that the consumption of seeds can play an important role in preventing and curing breast cancer.
My recommendation, as always, is that you don't exaggerate the portions. One cracker a day can be beneficial, two or three every day and over long periods, won't be. I recommend that you try it out first to see how your body reacts.
They are affordable and easy to prepare
If you already follow a healthy diet, then you may have already introduced seeds into your diet and most probably you have some on hand.
What I like best about this recipe is that when I decide to make it I don't need to go shopping because I already have the seeds at home and I can decide to mix in what I already have.
To save when buying seeds, my advice is to buy in bulk, but be careful because I have found stores in Barcelona that sell non-organic products in bulk at a higher price simply because now it's in trend to buy in bulk.
Preparing these crackers is truly simple just keep in mind that the preparation requires certain time: the 30-minute wait for the seeds to absorb the water and the 40 minutes in the oven.
So I can assure you that this doesn't require any special skills, only a bit of patience.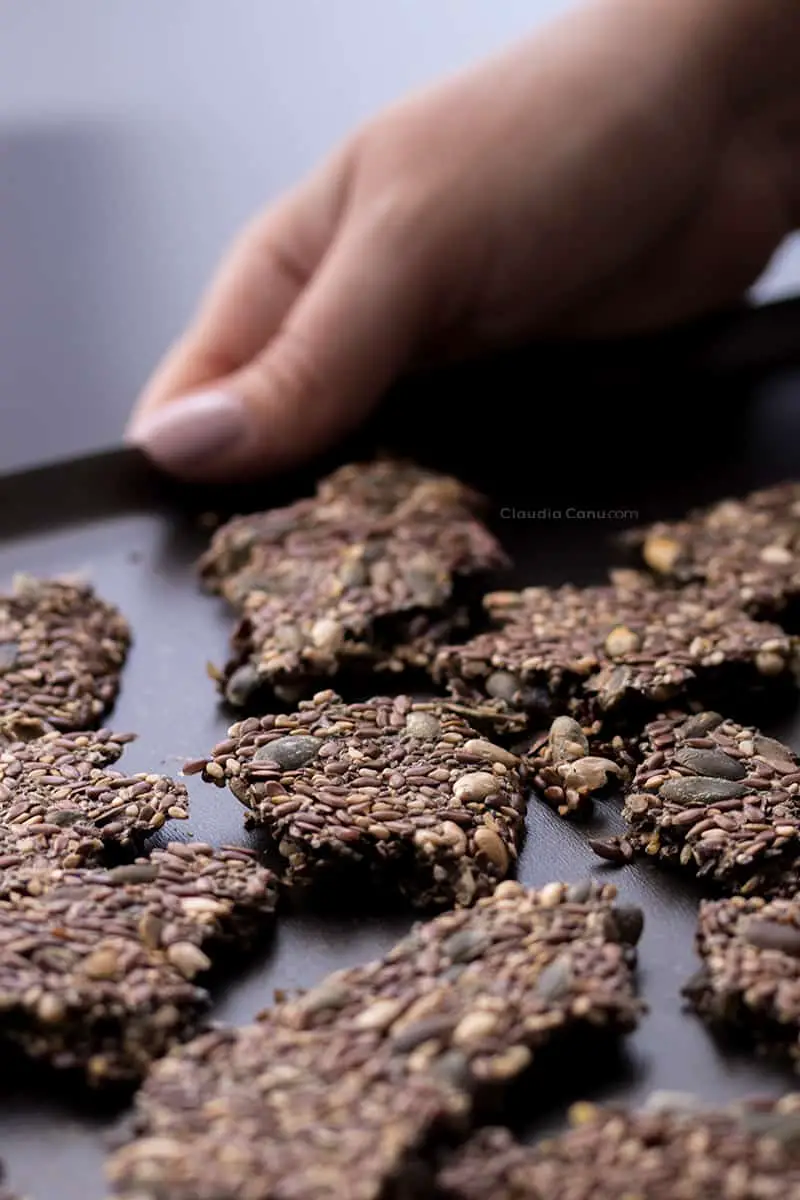 How to store these seed crackers
Ideally, they would be stored in a sealed storage container, preferably one made of glass. This way they will last much longer.
I have also tried to freeze them and I found out that they defrost pretty quickly and I couldn't find any difference in taste.
Occasions to eat seed crackers
For those who like savory over sweet, these seed crackers are ideal because you can always bring some with you. Keep in mind that if you want to carry them in your bag, it's best to store them in a hard container so that they don't crumble.
Additionally, they are ideal for a picnic or a brunch buffet. You can use them to accompany a spread such as my Caper Hummus or a Beetroot one. Or if you prefer sweets, it would also be tasty with a Homemade Nutella, All-natural Applesauce or a Homemade Jam.
Can they be prepared with other seeds?
Like I mentioned above, you can prepare seed crackers with any seed you prefer or any you have on hand.
The only thing you need to calculate is the amount of water needed for soaking. If you add too much water you may need to wait longer for it to absorb properly.
Keep in mind that if you put them in the oven before they finish absorbing all the water they will take longer to bake and they might burn.
If you are looking for something to eat these crackers with, I recommend my homemade teriyaki sauce, mojo picón or caper hummus.
If you are the type of woman who likes to experiment, I have seen recipes where they add grains such as oats or buckwheat. I haven't tried them yet, but if I do I'll be sure to add that information here. And if you try it first, please leave me a comment below telling me about it.
Have you ever tried seed crackers? If not, do you think you might be interested in preparing them?
I appreciate you stopping by my blog, and if you think this recipe might help someone you know to make another step to a healthier lifestyle, please don't hesitate and share it away! 🙂
Happy Healthy Eating!
A big hug,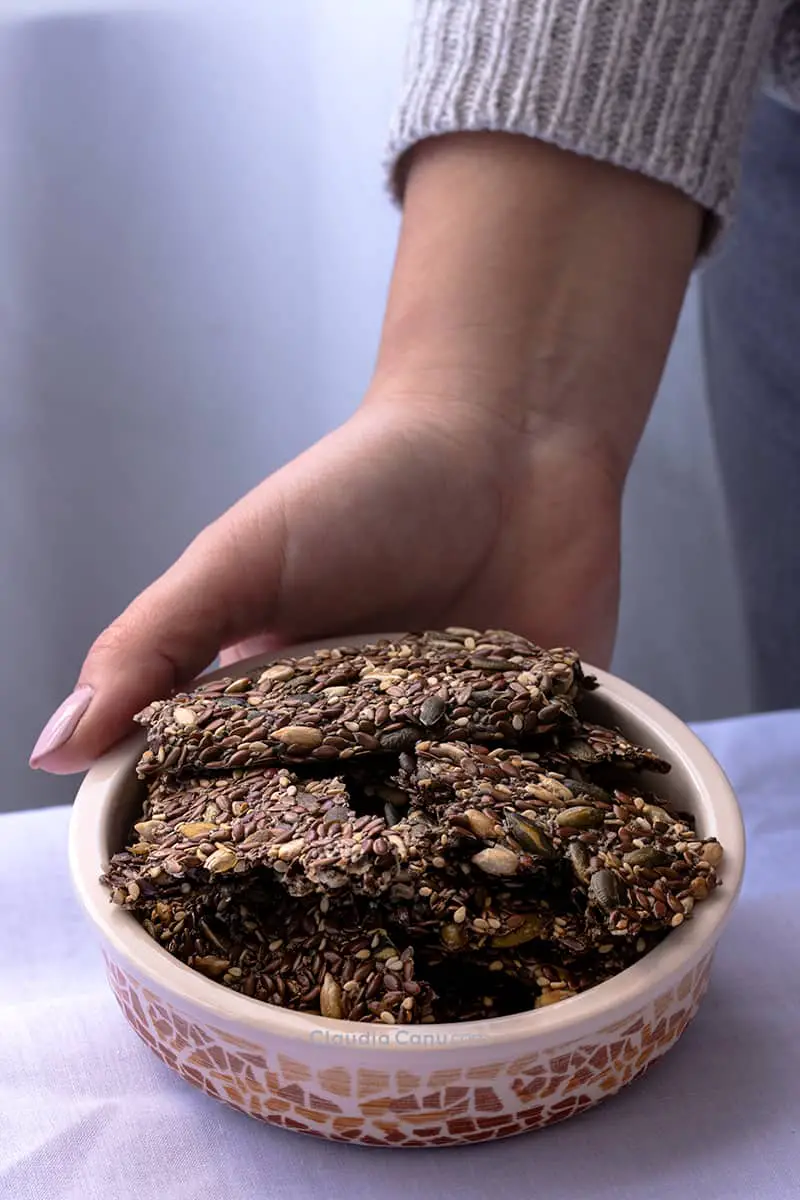 Seed Crackers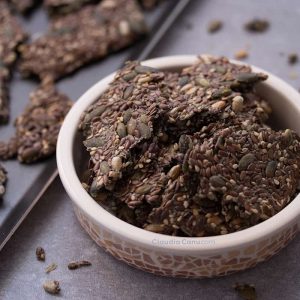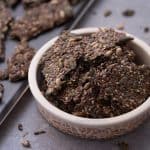 These seed crackers are ideal as appetizers or as a snack and they pair well with hummus or a mojo picón. They are vegan, gluten-free, paleo, lactose-free, and they practically make themselves, so don't forget to add it to your Healthy Meal Planning or Batch Cooking. 
Author: Claudia Canu
Prep Time:

35 min

Cook Time:

40 min

Total Time:

1 hour 15 min

Yield:

15

1

x
Category:

Brunch

Method:

Baking

Cuisine:

Healthy
Scale
Ingredients
½ cup of linseeds
¼ cup of pumpkin seeds
2 tablespoon of sesame seeds
2 tablespoon of chia seeds
2 tablespoon of sunflower seeds
¾ cup (180 ml) of water
¼ teaspoon of marine salt
¼ teaspoon of grounded black pepper
¼ teaspoon of grounded garlic
Instructions
1. Mix all of the seeds and spices in a bowl.
2. Add the water and mix. Let the mixture soak for 30 minutes until the seeds have absorbed all the water.
3. Preheat the oven to 200ºC (390ºF).
4. Spread the mixture on a nonstick baking tray or use vegetable paper.
5. Flatten the mixture so that the edges and center have the same thickness. The ideal thickness is half a centimeter.
6. Place the baking sheet in the oven and lower the temperature to 175ºC (350ºF).
7. Bake for 40 minutes.
Notes
If your oven doesn't have a vent I recommend you flip the baking tray after 20 minutes.
Keywords: vegan, gluten-free, dairy-free, vegetarian, paleo, seeds, crackers, healthy, snack, easy, simple recipe, eat healthy, easy to make, on the go, aperitif, portable snack, healthy brunch
Recipe Card powered by