These turmeric roasted chickpeas, or chickpea croutons, can be prepared in the blink of an eye and are incredibly versatile. You can add them to your soups or vegetable creams, both cold and hot. You can use them in salads, serve them in an appetizer or take them with you so that you always have something to snack on. They are easy to prepare, vegan and gluten-free.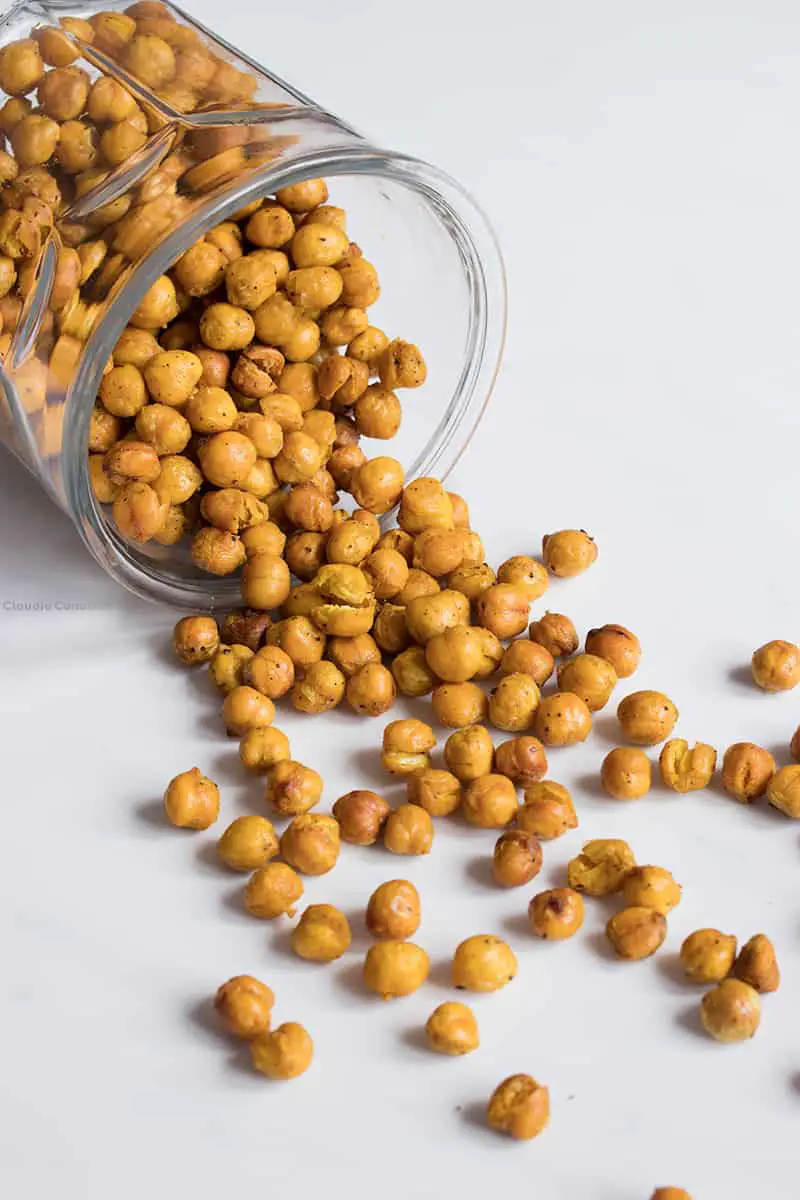 How to prepare turmeric roasted chickpeas
As you can see in the video, the steps to prepare these chickpea croutons are very easy and will take you very little time. You just need to have some patience in waiting for the 40 minutes of baking time to pass, but I assure you it will be worth it.
The four steps to follow are summarized here:
Mix the oil with the spices.
Add this mixture to the cooked chickpeas and stir.
Pour the chickpeas on a non-stick baking sheet.
Bake for 40 minutes.
HOW TO MAKE THESE TURMERIC CHICKPEA CROUTONS (48 sec)
For this recipe, you can use precooked chickpeas from a glass jar, although there are some that can form a gelatinous substance. In that case, I recommend you rinse and drain them well to almost dry before adding oil.
I personally prefer to buy dried chickpeas and cook them myself because I have noticed that I digest them better.
These are the tricks that I follow when preparing them:
– The night before, I let them soak together with about five cm of kombu seaweed.
– Before cooking, I discard the water from the soak but keep the seaweed.
– I cook them in plenty of water along with the seaweed.
– When the water starts to boil, with the help of a skimmer or a spoon, I remove the foam that forms on the surface.
– I let them boil for a couple of hours.
– I drain them and let them cool.
If you are one of these people who have no problems digesting chickpeas, you can save the whole process and buy them already cooked.
The baking time of this recipe is 40 minutes. After this time, the chickpeas stay crispy and the oil has been absorbed almost completely. However, if you prefer the chickpeas to be less crispy, you can bake them for only 20 minutes.
Keep in mind that if the baking time is shorter, the storage time also decreases. I explain it better below.
Finally, I recommend you use a non-stick tray like what you see in the photos, making note that I bought it in Claudia & Julia's online store.
Why you should consume these chickpea croutons
The main reason why I wanted to add this recipe to the blog is that these chickpeas are ideal to replace two foods that we usually eat on many occasions, which are highly addictive and are highly recommended to eliminate completely from our diet:
Bread croutons
Potato chips.
The reason to avoid bread croutons is that, often, they are made with industrial bread prepared with refined and cheap raw materials. In addition, they usually carry a certain amount of added sugar and preservatives.
About the chips … well, I don't think we need to go into details here and I guess we all agree that bagged chips should not be in our diet. I understand that, from time to time, you may crave them, especially if you happen to have them just under your nose. You know that I am in favor of enjoying what we may want at a certain moment, but I want you to always have the following in mind: potato chips = poison! 🙂
Another reason why I have considered adding this recipe is to give another option to consume legumes.
In my post for the Caper Hummus recipe, I have written about a study related to the nutritional value and the health benefits of chickpeas, so I don't want to repeat myself.
What I would like to add here is something related to a problem quite common for some people who introduce legumes into their diet for the first time: bloating and flatulence. For your digestive system, this might be problematic and if this is your case, it is advisable to introduce them into your diet in small doses at first and then, you can slowly increase the amounts while noticing how your body reacts. Another option is that you prepare them yourself as I have indicated in the first part of the post.
It's true that most studies only indicate positive things about the consumption of chickpeas, but we know that each body is different. If yours does not accept this food, then do not force it. There are many more legumes that you can consume and that your body may accept better.
Finally, one more reason to want to prepare this recipe is that it contains turmeric. You might already know that turmeric is a great anti-inflammatory for our body, but the curcumin contained in turmeric has more health benefits as well.
However, it must be consumed in a certain way so that the body can benefit from all of its properties.
– It needs to be consumed together with black pepper.
– It has to be consumed with a fat, the extra virgin olive oil in this recipe.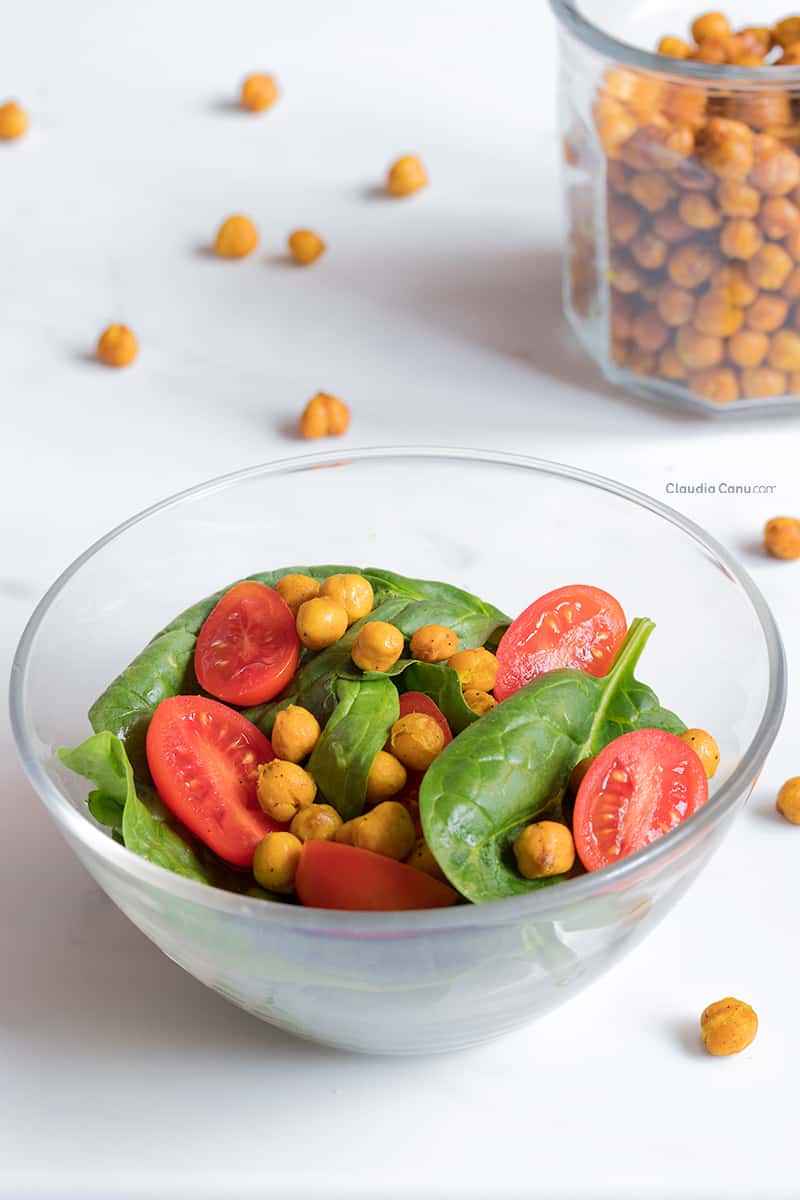 How to store these turmeric roasted chickpeas
The best way to store them is in an airtight glass container. If you bake them for 40 minutes or more, and the oil has been absorbed almost completely, then it is very likely that they will last a week or more, that's if you don't finish them before then, of course 😉
However, if you prefer the less crunchy version that you bake for only 20 minutes, then keep in mind that, by staying oilier they can be stored for a lesser period of time. I didn't know that, so once I stored them in a glass jar in the pantry and forgot about them. A few days later I went to look for them and found them full of mold 🙁
Occasions on which to eat these croutons
These roasted chickpeas are perfect as croutons to accompany creams or soups, both cold and hot, or salads, to substitute for the bread croutons that you buy at the supermarket which usually carry unhealthy refined ingredients.
You can also serve them as an aperitif together with vegetables and cheeses.
They also make the perfect healthy portable snack. You just have to put them in a plastic bag. They won't take up much space in your bag, break or make a mess.
Finally, they are an ideal option to replace a bag of chips that you could eat while watching a movie. Be careful because they are addictive. I left the jar next to the computer once and finished half of the amount in one sitting.
Ok, so what do you think of this recipe? Will you try it?
I'd love to hear your thoughts. You can leave an evaluation and a comment below. Also, you can share it with your loved ones using the buttons below.
I hope this recipe helps you in your change towards a healthy lifestyle, or if you are already there, that it will help you to maintain your progress.
Thank you for stopping by!
A big hug,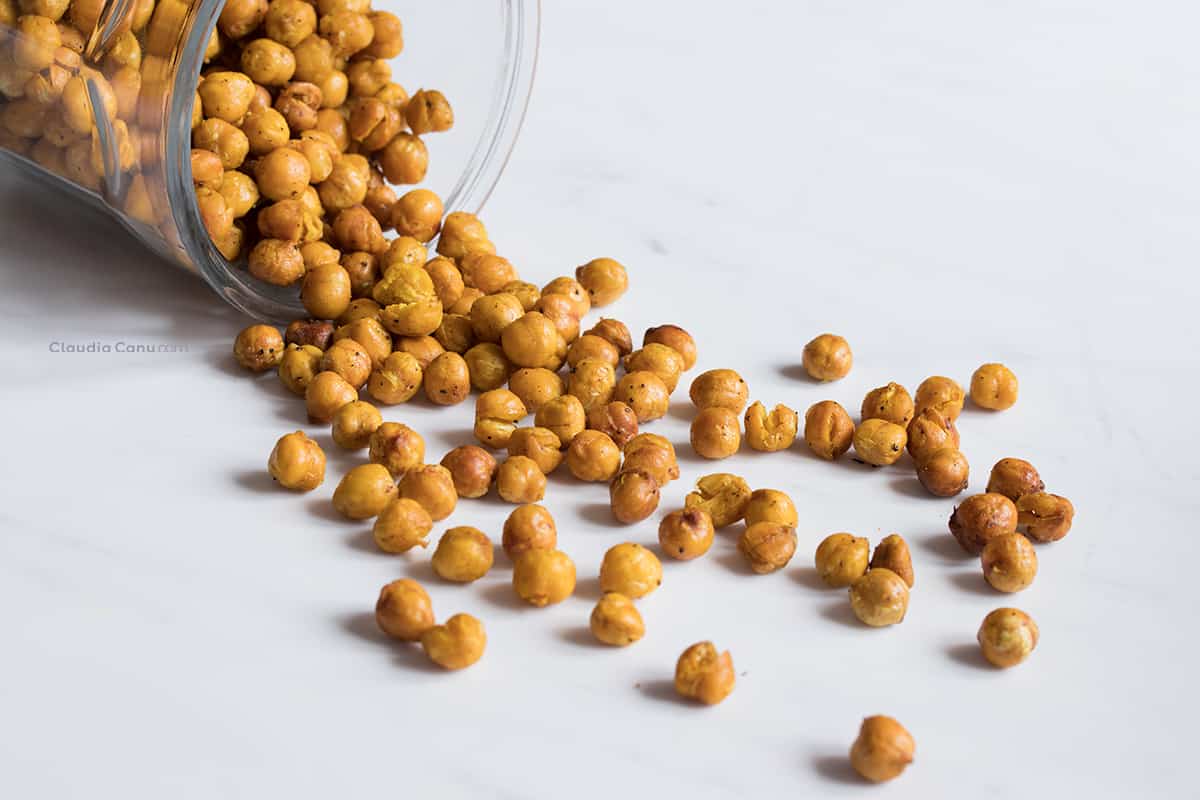 Turmeric Chickpea Croutons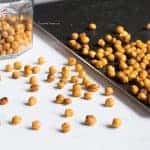 These chickpea croutons can be prepared in the blink of an eye and are incredibly versatile. You can add them to your soups or vegetable creams, both cold and hot. You can use them in salads, serve them in an appetizer or take them with you so that you always have something to snack on. They are easy to prepare, vegan and gluten-free.
Author:

Claudia Canu

Prep Time:

10 min

Cook Time:

40 min

Total Time:

50 min

Yield:

10

Category:

Snack

Method:

Baking

Cuisine:

Healthy
Ingredients
400 gr. (2 1/2 cups) of cooked chickpeas (1 cup dry)
¼ teaspoon of salt
¼ teaspoon of turmeric
⅛ teaspoon of black pepper
1 tablespoon of extra virgin olive oil
Instructions
1. Preheat the grill of your oven to 180ºC while you prepare the ingredients.
2. Mix the oil with the spices until they are all well incorporated.
3. Pour the chickpeas into a bowl and add the mixture of oil and spices.
4. Remove the chickpeas until the oil is evenly distributed.
5. Pour the chickpeas onto a non-stick baking sheet and place it on the highest level of your oven.
6. Bake at 180ºC for 40 minutes.
Notes
If your oven does not have a fan, I recommend that you turn the tray over after the first 20 minutes.
Keywords: vegan, gluten-free, dairy-free, vegetarian, chickpeas, croutons, healthy, snack, easy, simple recipe, eat healthy, easy to make, on the go, aperitif, legumes, portable snack
Recipe Card powered by