This homemade elderberry jam needs just a few ingredients and a few steps to be ready. It's a quick and easy recipe to make, is dairy-free, gluten-free, sugar-free, paleo, keto and vegan but still delicious and it can easily be added to your Meal Plan or Batch Cooking.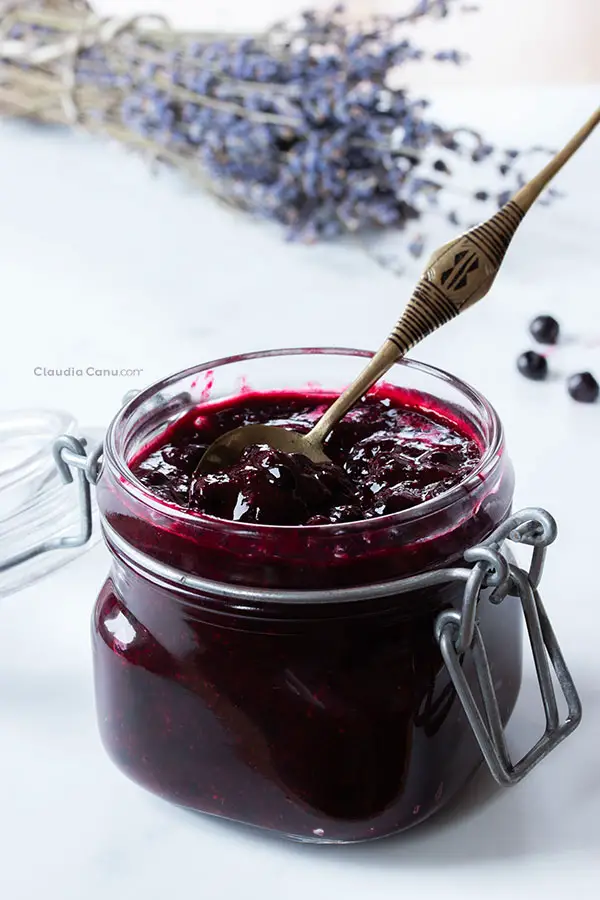 Heads up: some products I mention below may contain affiliate links and should you decide to buy anything, with no extra charge for you, you are contributing to having more free content on this blog.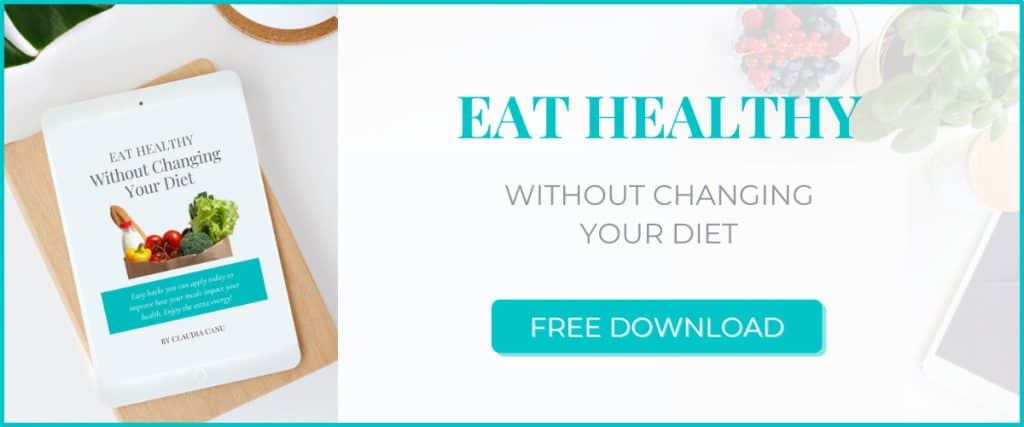 Why should you make homemade jam instead of buying it at the supermarket
The main reason for making your homemade jam is to have control over the ingredients you are going to use, and thus, making the decision to prepare a more or less healthy jam.

The jams that we usually buy in supermarkets, even in organic supermarkets, usually carry a large amount of sugars or sweeteners, as well as preservatives.

Even the light versions that supposedly should be better for our health, are actually worse than the normal version because, instead of having refined sugar, they have artificial sweeteners.

For this reason, I always recommend reading the list of ingredients of every food you buy, even if it's organic.

And as I always say, if a product has more than five ingredients and there is one that you don't know, then don't buy it.

Moreover, this homemade jam is so easy to make, you won't even bother looking in the supermarket for a version that is just as healthy.
What do I need to make elderberry jam
In a traditional version of elderberry jam, you would simply need the elderberries, a certain amount of refined sugar and a thickener.
However, since we love to find healthy versions of the most traditional recipes, you need the elderberries, a little stevia and, optionally, a small amount of kuzu to thicken it and another type of berry that you would like to add.
The elderberries can be used fresh or frozen. I was able to buy some at the Sunday market, even out of season. They were sold to me by a lady who had collected them during the season and then frozen them.
The same thing happened with the wild strawberries that I've added to this recipe, and I assure you that this homemade jam was just delicious.
What's elderberry?
The elderberry is a shrub that usually grows in temperate areas and produces berries that are usually black or bluish.
The ripe and cooked berries of most species are edible. However, most raw berries and other parts of the plant are poisonous.
Regarding its phytonutrient content and its antioxidant capacity, it has been shown to be similar to those typically reported for black raspberries, blackberries and other small, dark berries.
In Europe, the beneficial properties of elderberry have been recognized for generations and, in fact, these berries contain a variety of anthocyanins, flavonoids and other polyphenols that contribute to their high antioxidant capacity.
In a study, it's indicated that products based on black elderberry extract are natural remedies with antivirals, especially against different strains of the influenza virus.
It was shown to reduce the duration of flu symptoms to 3 – 4 days and to activate the immune system.
Moreover, compounds from elderberries can directly inhibit the flu virus's entry and replication in human cells, and can help strengthen a person's immune response to the virus.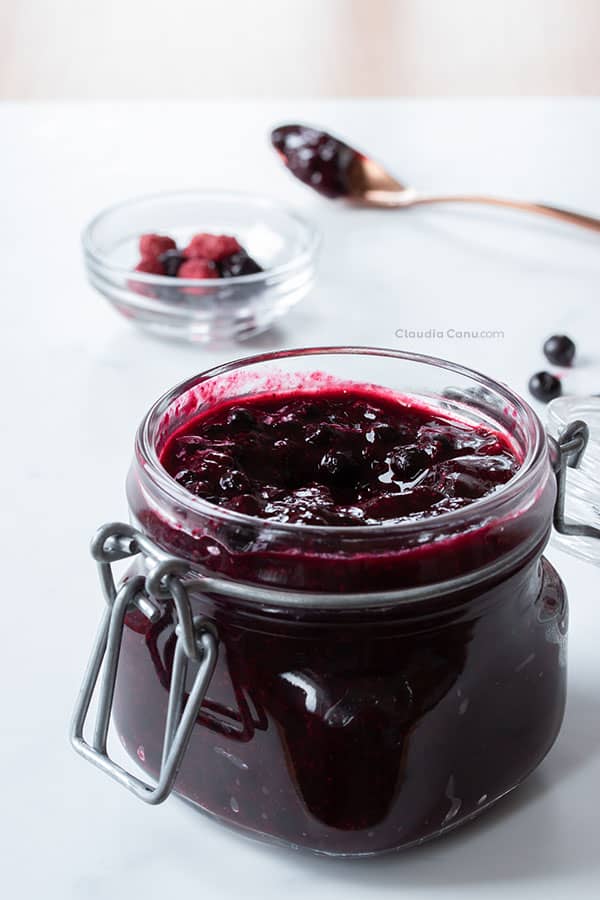 What's Kudzu?
Kudzu is also known as Japanese arrowroot. It's a gluten-free, organic starch that is naturally extracted from the roots of a Japanese plant called kudzu or kuzu. It has a smooth texture and a neutral flavor.
It's used for soups and broths. A spoonful is usually dissolved in a little cold water and then added to the recipe.
In this homemade jam, I have chosen to add it directly to the fruits to avoid adding more liquid to the recipe and then having to wait longer for it to evaporate.
You can buy it in an herbal shop or in a store that sells organic products. You just have to make sure that the only ingredient is kudzu.
Kudzu is used in traditional medicine and in a study, it has been shown that the isoflavonoids of the kudzu root, especially the root of kudzu fermented with E. cristatum, are potentially therapeutic drugs against diseases induced by oxidative damage.
It has also been found that it could be a potential adjuvant agent for the treatment of diabetes mellitus and its complications in the future.
Finally, there is evidence that over-the-counter medicines that carry kudzu may be useful against cluster headaches, but this hypothesis still needs to be tested with a clinical trial.
How to make this elderberry jam
Once you have prepared your ingredients, you simply have to add them to a pot and bring them to a boil. Once it's boiling, you can cook it for more or less time, depending on how thick you want your homemade jam to be.
The longer you cook it, the thicker it will be.
WATCH HOW TO MAKE THIS HOMEMADE ELDERBERRY JAM (47 sec)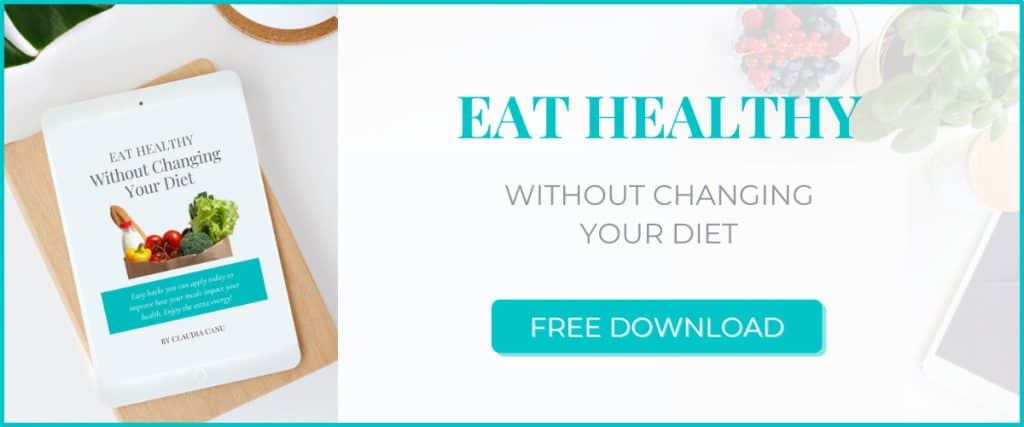 Some tips to make this elderberry jam perfectly
This recipe for homemade jam is so easy to make that it's pretty much impossible to fail.
The only recommendation I would like to give is to be careful that it doesn't stick to the pot; that can happen if you use the burner too high or you wait too long before removing it. According to the pot you use, these times can change a lot.
You don't have to stir it constantly, but keep in mind that when it has been cooking for a while, and it has already lost a lot of water, it's easier for it to stick.
Another tip for making this jam perfect is that you use the kudzu to thicken it, especially, if at home, you are used to consuming jams that are thicker. This way, nobody will realize that it's a homemade and healthy jam 😉
Why do I consider this elderberry jam to be healthy
SUGARFREE

A traditional recipe for homemade jam usually calls for a large amount of sugar which, as we know, is not recommended for our health. This recipe, however, is sweetened only with a little stevia. The advantage of using stevia is that it has a much greater powered sweetener than sugar and, therefore, a small quantity is enough.

ELDERBERRIES

As we have seen above, elderberry has recognized beneficial properties for health. But, in addition, the good thing about this ingredient is that we usually don't consume it daily, and this contributes to maintaining a varied diet.
How to store and how long does this homemade jam last
As always, I recommend that you store your food in glass containers. For this homemade jam, you can even use a jar that you have recycled and cleaned. The important thing is that it closes well.

When I prepare the amount of this recipe, I can fit it into a single pot and it lasts it up to two weeks in the fridge.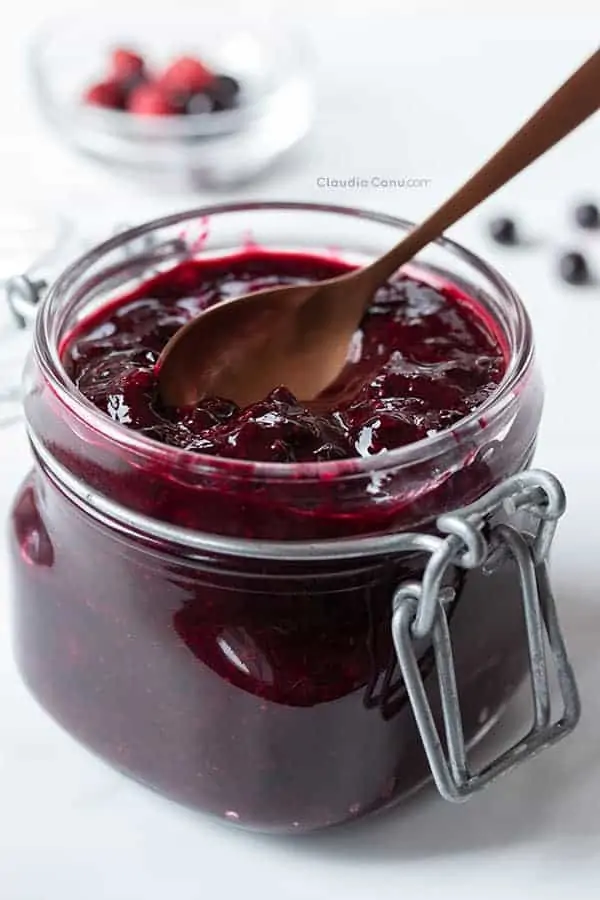 When is the best time to eat this elderberry jam

You can give it the same use as any other jam. You can use it on toast, add it to yogurt or even to your overnight oats.

I used it also to decorate these flourless chocolate cakes that I prepared for Valentine's Day.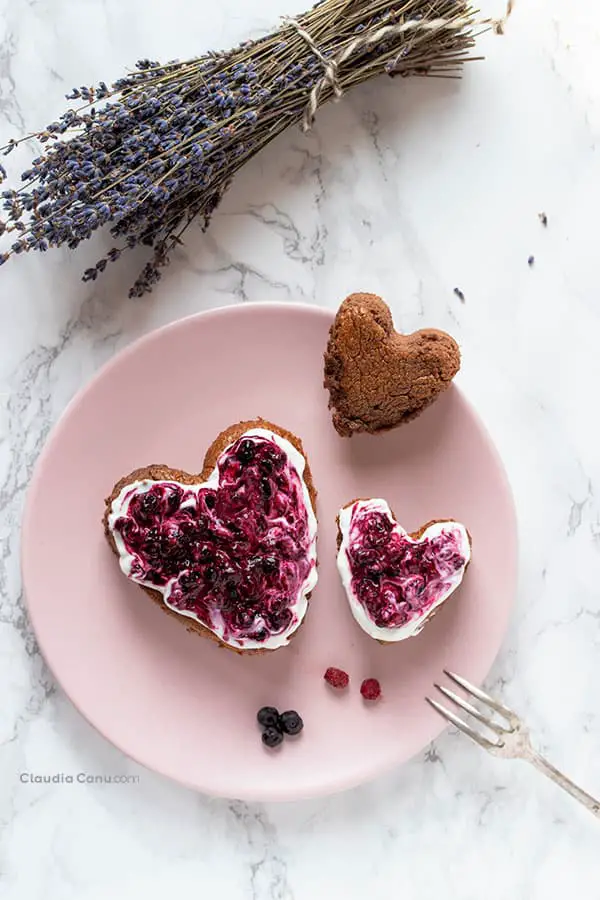 Can I make this homemade jam with different ingredients?
You can prepare this recipe with various fruits such as strawberries, raspberries, blackberries, blueberries or any other berry, and you can mix them at your whim. I assure you that any combination is great.

What I want to emphasize is that you can use the ingredients that you have at your fingertips. The only thing you should do is keep the recommended amounts.

As I always say, have fun in the kitchen, do not feel tied to the recipes, experiment with the ingredients and prepare recipes that you really like.

This jam is perfect to add to your Meal Plan or Batch Cooking and if you like to batch cook, try these healthy fridge staples too:
Gift this elderberry jam

A homemade jam is an original idea for a gift, especially for those friends and family who live a healthy life.

It can be a birthday present or simply a gift to tell someone that you love him/her.

It's also a perfect way to thank someone for a favor that we have received.

Who wouldn't appreciate a jar of homemade jam prepared with much love, right?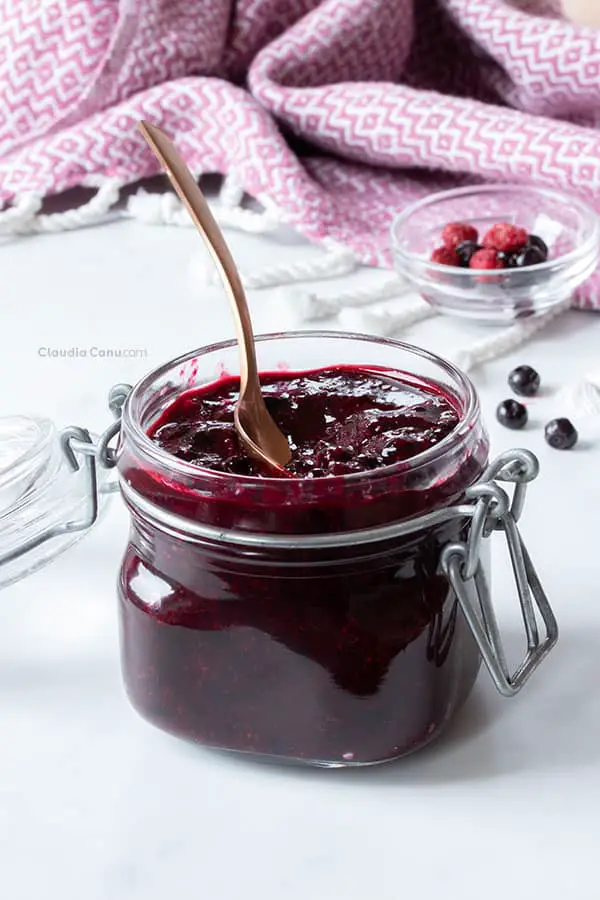 Your turn: Have you ever tried an elderberry jam? If not, do you think you will try to make this recipe? I'd love to hear your opinion and don't forget to leave me a comment below, rating the recipe by using the stars ?

As always, I appreciate you stopping by my blog, and if you think this post might help someone you know to make another step to a healthier lifestyle, please don't hesitate and share it away!

Happy Healthy Eating!

A big hug,

Equipment needed to make this homemade elderberry jam:

Homemade Elderberry Jam
This homemade elderberry jam needs just a few ingredients and a few steps to be ready. It's a quick and easy recipe to make, is dairy-free, gluten-free, sugar-free, paleo, keto and vegan but still delicious and it can easily be added to your Meal Plan or Batch Cooking.
Author: Claudia Canu
Prep Time:

5 min

Cook Time:

20 min

Total Time:

25 min

Yield:

15

1

x
Category:

Breakfast

Method:

Cooking

Cuisine:

Healthy
Scale
Ingredients
½ cup of elderberries
½ cup of wild strawberries or another berry (optional)
½ teaspoon of stevia
1 teaspoon of kuzu (optional)
GET A 30-DAY FREE TRIAL AND BUY YOUR INGREDIENTS ONLINE
Instructions
In a small pot, mix together the fruits, the 1/2 teaspoon of stevia, and the 1 teaspoon of kuzu.
Use a small burner and bring it to a boil while stirring.
Once it is boiling, lower the heat to a minimum and cover the pot.
After about 10 minutes, stir it again.
Cover the pot again and let it cook for another 10 minutes.
Be careful that the jam doesn't stick to the bottom of the pot.
After about 20 minutes, the jam will have already become quite dense and, once cooled, will gain in density.
Let it cool completely before storing it in the jar.*
Equipment
Notes
*If you don't like to feel the pieces of fruit in your jam, you can use a blender to break them before storing it.
Keywords: vegan, gluten-free, pegan, keto, dairy-free, vegetarian, paleo, marmalade, jam, healthy, quick, easy, elderberry
Recipe Card powered by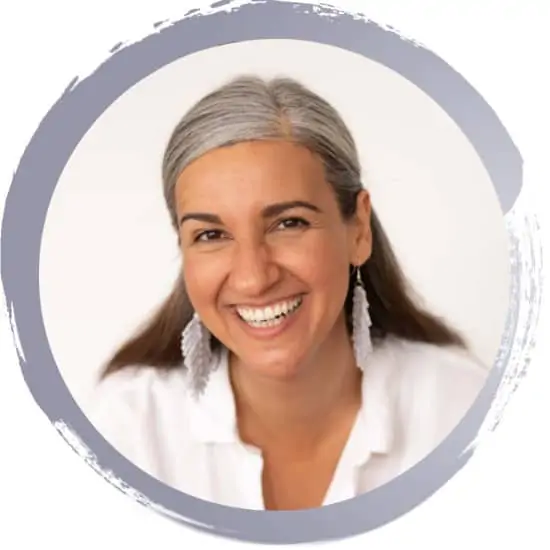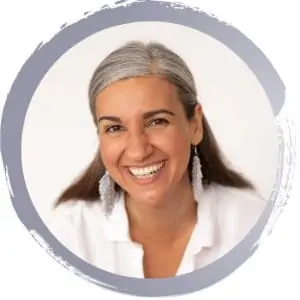 Hi, I'm Claudia
I'm a Health Motivator, I hold a master's degree in Nutrition and Dietetics and I'm dedicated to making it easier for you to live a healthier life.
More about me
Featured in


FREE DOWNLOAD