A balanced, healthy and nutritious bowl filled with lots of veggies, different types of protein and whole natural grains, a mix of flavors that will fill your body and heart, a meal easy to have on-the-go and a recipe that you need to add to your Batch Cooking.
What do I need to make this Buddha Bowl
To make this exact Buddha Bowl, you need 12 different ingredients. My recommendation is that you prepare all of the ingredients that need to be cooked on the previous day and cut all of the veggies the same day you are going to assemble the bowl.
Consider preparing bigger quantities of each ingredient, almost as if you would be batch cooking. Store the ingredients separately in your fridge and use them to make different dishes or Buddha Bowls.
No special tools are required, other than a pot and a pan for cooking, and a food processor, if you'd like to make the beetroot hummus yourself.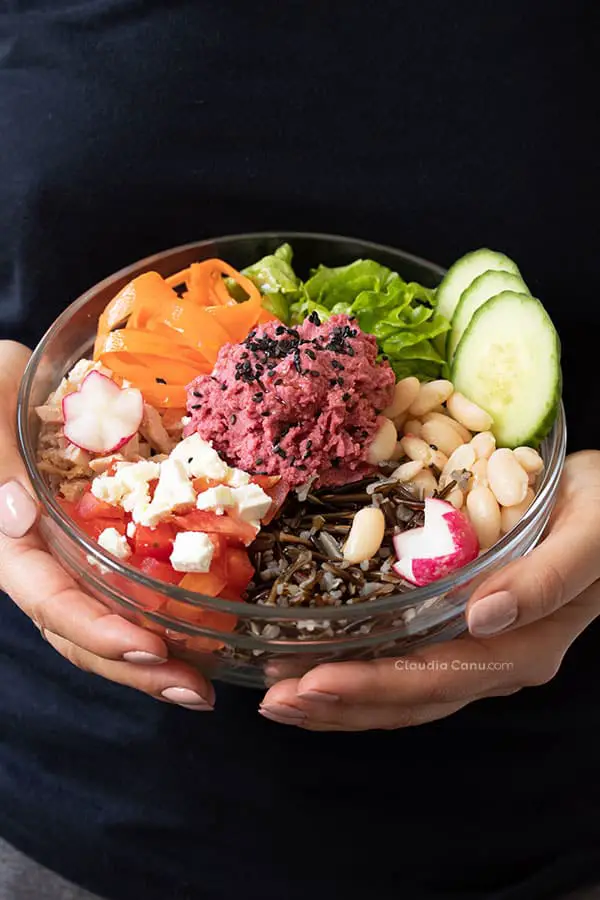 Heads up: some products I mention below may contain affiliate links and should you decide to buy anything, with no extra charge for you, I'll earn some tea money that I'll be sipping while creating more free content for this blog. Thanks a lot for your contribution!
How to make this Buddha Bowl
Once you have all the ingredients ready, you just need to assemble the dish.
You can do it by placing one next to the other, keeping a certain tidiness to give the "Instagram-worthy" look to the dish, or you can just add the ingredients one on top of the other. At the end of the day, what you want is to mix it all for a better taste.
More suggestions about the ingredients prep:
GREENS: Cut some green leaves in the shape you prefer. It can be any greens. The darker, the better. Take the opportunity to try new types or use your least favorite, the mix of flavors will disguise it.
WHITE BEANS: You can use canned beans or you can buy them dry and cook them yourself. Let them soak overnight, drain and wash them. Cook them in abundantly salted boiling water until they are soft. Drain the excess water.
WILD RICE: Find all of the information about wild rice in my blog post, "How to make wild rice".
TOMATOES: Use fresh and local and dice them.
CHICKEN: You can use any part of the chicken you prefer. For easy batch cooking, I always recommend using chicken breast that can be cooked in a pan or in the oven.
CARROTS: For this specific recipe, I've used a peeler to slice the carrots, but you can cut them the way it's easier for you.
FETA CHEESE: It's an easy cheese to use because you can crumble it just with your fingers and you don't need a cutting board with a knife. However, I invite you to use the cheese you prefer or the one you have at home.
BEETROOT HUMMUS: The hummus can be any type. In this recipe, I've used Beetroot Hummus that I've prepared by following this recipe for Caper Hummus but using a medium-sized boiled beetroot instead of the capers.
CUCUMBER: Sliced as you see in the photos, it can be used to eat with the hummus, almost as an aperitif before eating the rest of the bowl.
RADISH: They are beautiful for decoration, but they are also perfect to add more variety, color, and fiber to our dish.
BLACK SESAME SEEDS: You can use white sesame seeds instead of any other seeds you have at home – pumpkin or sunflower – or even some crushed nuts.
EVOO: Extra virgin olive oil is just perfect to add more taste, but without overwhelming the flavor of all of the other ingredients.
STEP BY STEP PICTURES ON HOW TO MAKE THIS BUDDHA BOWL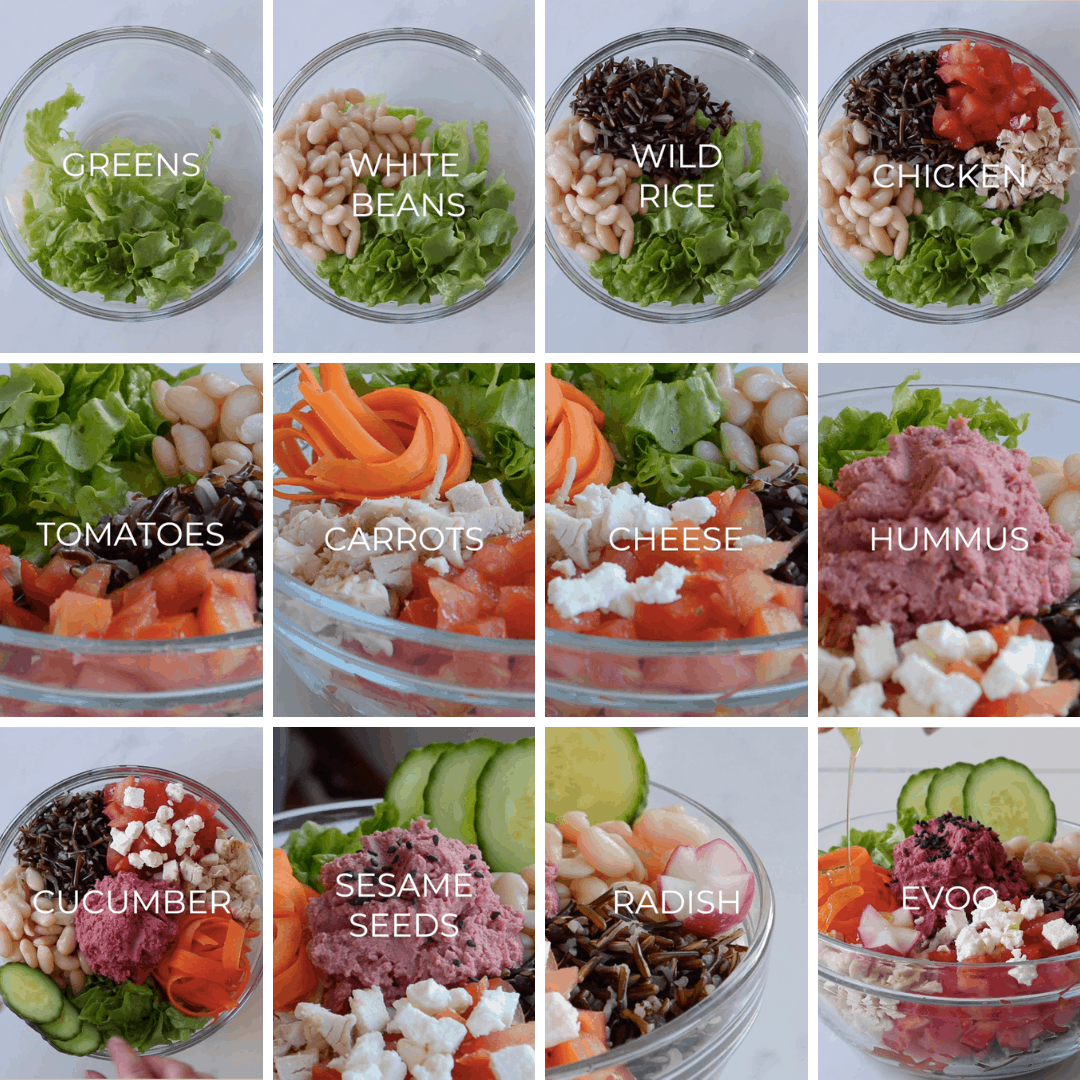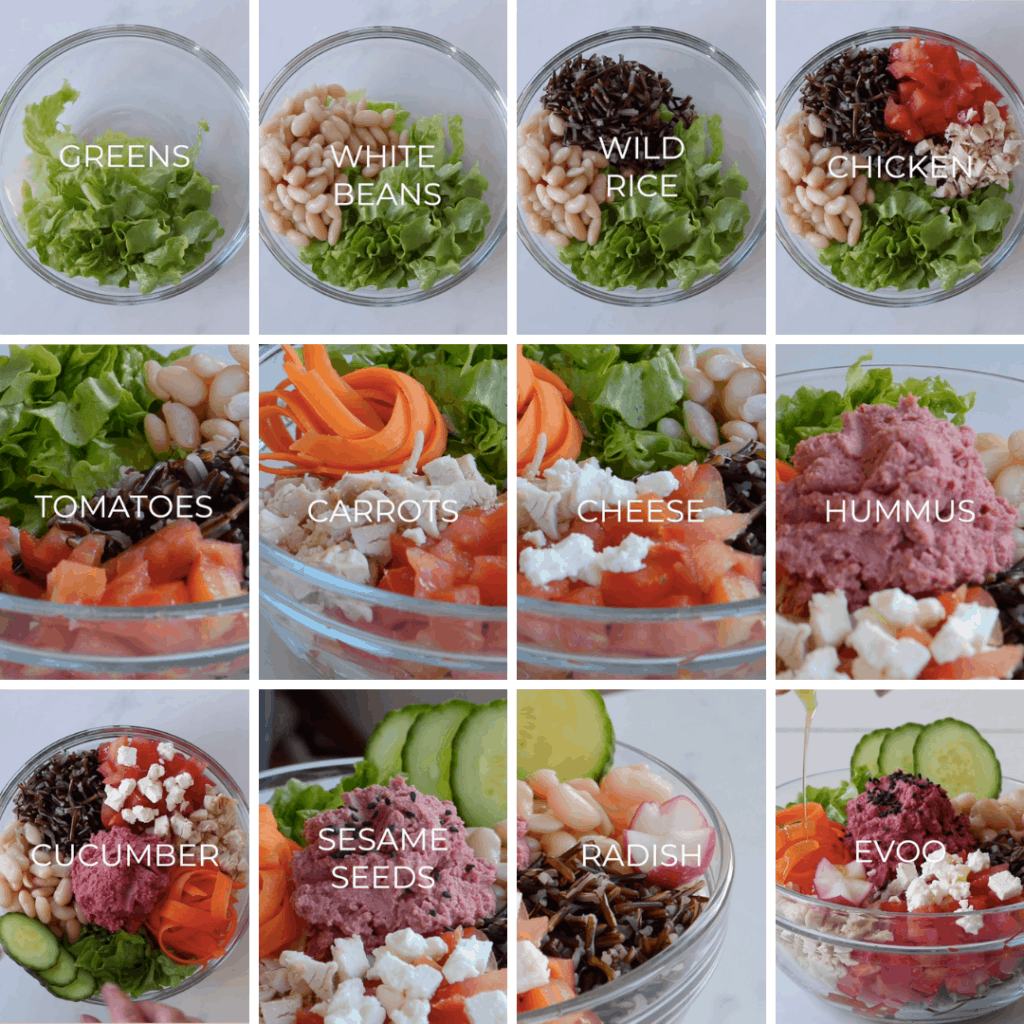 WATCH HOW TO MAKE THIS BUDDHA BOWL (49 sec)

What's a Buddha Bowl
The Urban Dictionary definition of a Buddha Bowl is: "A bowl which is packed so full that it has a rounded "belly" appearance on the top, much like the belly of a buddha". but the Zen priest, Dan Zigmond, author of the book "Buddha's Diet", told Epicurious that the name Buddha Bowl might also refer to Buddha's tradition of carrying his empty bowl through the roads where he was staying, and received food as donations from the local people.
Nowadays, a Buddha Bowl, also called Power Bowl, refers to a meal, served in a single bowl or high-rimmed plate, which consists of small portions of several foods, served cold. [1]
Why do I consider this Buddha Bowl to be a balanced meal?
In my post "My Solution in the Kitchen", we have already seen what a balanced plate should look like, and we have talked about the importance of having a dish containing proportioned amounts of whole grains, protein, fat, fiber, and veggies.

Well, let's see in detail what this Buddha Bowl contains:  

PROTEIN:
Beans
Chicken
Cheese
Hummus (made with chickpeas)

WHOLE GRAIN:
Wild rice

FAT:
Cheese
Extra Virgin Olive Oil
Sesame Seeds

VEGGIES: 
Greens
Carrots
Cucumber
Tomato
Radishes

Also, in a 2019 study, it has been shown that "Nutrients from food, not supplements are linked to lower risks of death, cancer". So, having a nutritious meal packed with nutrients like it is this Buddha Bowl, it's definitely a great choice for our body.

A Buddha Bowl is my go-to lunch and, often, also dinner. I always have different ingredients ready in my fridge, then I just mix them together, but I'm always changing something to get different flavors. 

It's also a great option as an on-the-go meal.

For my winter warm version, I bake a bunch of veggies that I use, instead of the raw ones in this recipe, then, once I mix all of the ingredients, I warm it up in the microwave for a couple of minutes, adding the sauce just before eating.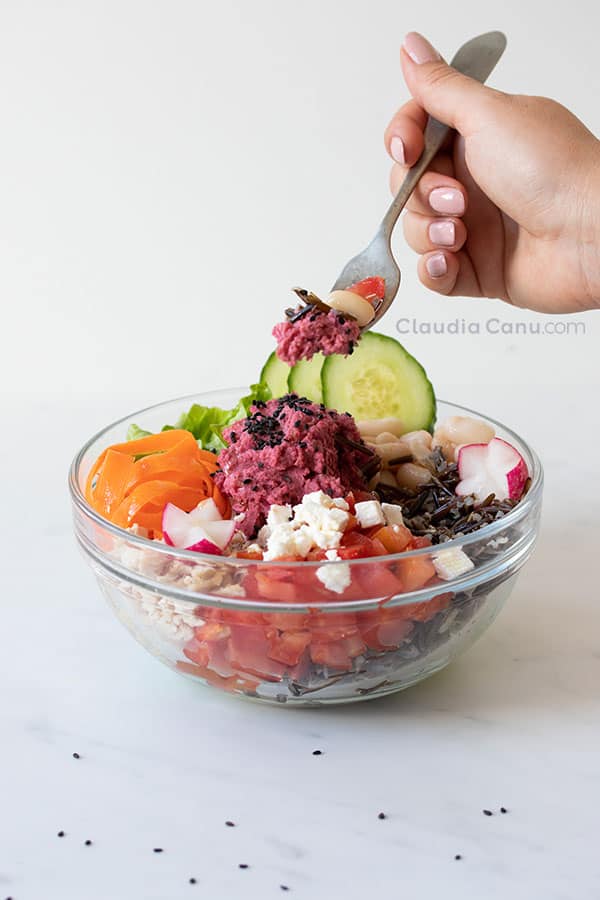 How to store this Buddha Bowl and how long it lasts

The best way to store a Buddha Bowl is before you put the ingredients together. What I mean is that you can prepare all of the ingredients separately and store them separately, so that when you want to prepare your Buddha Bowl, you just have to put them together.

This way of preparing the ingredients is pretty similar to batch cooking, where you have different meal components stored separately in the fridge.

Another option is mixing all of the dry ingredients together and storing them in the fridge. This way, they would last up to 4 days in an airtight, glass container; you'll add the wet ingredients, like hummus and olive oil only right before eating.

Can I make a vegetarian/vegan version of this Buddha Bowl?

Yes, and it's very easy. By simply eliminating the chicken, you have a vegetarian version. If you like to maintain a higher amount of protein, you can substitute it with organic tofu or seitan.

For a vegan version of this Buddha Bowl, we need to leave out the chicken and the cheese. You don't need to substitute them, but you could keep a high amount of protein by adding tofu or seitan and you could add nutritional yeast for a cheesy taste.

Can I make this Buddha Bowl with different ingredients?

Absolutely! You can literally use the ingredients you prefer. As an example, you can switch the beans with any other legume, the chicken with any other meat or fish, or you can opt to leave the meat out.

A Buddha Bowl is just a generic name for this type of dish with different ingredients put together, so, I'd like to invite you to be creative by using different ingredients, but also resourceful by using the ingredients you have at home.
Instead of plain olive oil, you could try a more peculiar sauce like the teriyaki dressing that I used in my cabbage salad.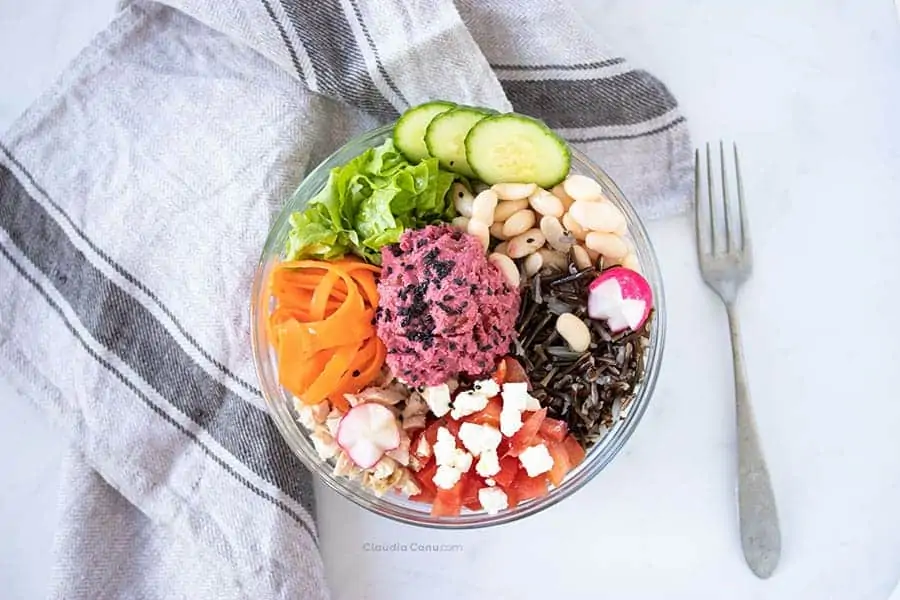 More recipes that you can enjoy in a healthy brunch:

Tools used to make this recipe:
Visit my Amazon Influencer Shop to see all my suggestions for tools to help you live a healthier life.
Your turn: Have you ever had a Buddha Bowl before? If not, do you think you will give this recipe a try?

Let me know if you have any questions by leaving a comment below.

As always, I appreciate you stopping by my blog, and if you think this post might help someone you know to make even a small step to a healthier lifestyle, please don't hesitate and share it away!

Happy Healthy Eating!

A big hug,

Buddha Bowl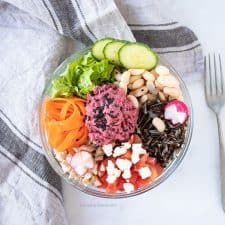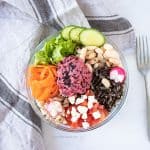 A balanced, healthy and nutritious bowl filled with lots of veggies, different types of protein and whole natural grains, a mix of flavors that will fill your body and heart, a meal easy to have on-the-go and a recipe that you need to add to your Batch Cooking.
Author: Claudia Canu
Prep Time:

20 min

Total Time:

20 min

Yield:

2

1

x
Category:

Brunch

Method:

Stove

Cuisine:

Healthy
Scale
Ingredients
2 cups of chopped greens
1 cup of cooked white beans
1 cup of cooked wild rice
½ cup of diced tomatoes
½ cup of roasted chicken breast, minced
1 small carrot
¼ cup of feta cheese, crumbled
⅓ cup of beetroot hummus
3 slices of cucumber
1 radish
1 teaspoon of black sesame seeds
2 tablespoons of extra virgin olive oil
Instructions
Have the beans, rice, chicken and hummus ready from the previous day.*
Chop the greens of your choice.
Dice the tomatoes.
Cut the chicken into small pieces.
Slice the carrot using a peeler, or cut them the way you prefer.
Crumble the feta cheese.
Slice the cucumber.
Cut the radish in half.
Put all of the ingredients together, one next to the other, for a nicer presentation.**
Add the hummus on top, the sesame seeds and dress with extra virgin olive oil.
Notes
*More detailed information in the blog post.
** If you don't care about the nice presentation, just put the ingredients together.
Keywords: healthy, on-the-go, balanced, gluten-free
Recipe Card powered by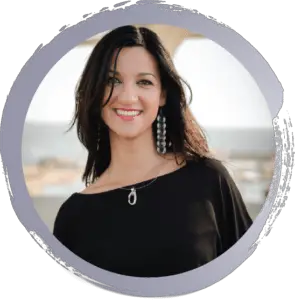 Hi, I'm Claudia
I'm a Health Motivator, I hold a master's degree in Nutrition and Dietetics and I'm dedicated to making it easier for you to live a healthier life.
More about me