Bananas are a convenient, natural and portable snack that can be found year-round; however, this easiest and healthiest banana snack is a great upgrade compared to just a plain banana.
It's naturally gluten-free and vegan if you use the vegan version of the Healthy Nutella. Don't wait any longer to add it to your Healthy Meal Plan.
Heads up: some products I mention below may contain affiliate links and should you decide to buy anything, with no extra charge for you, you are contributing to having more free content on this blog.
What do I need to make this banana snack
This recipe calls for only four ingredients and three of them can easily be substituted if you don't have them at home. Have a look at the recipe card notes to gather some ideas.
As for the tools, you don't need anything special, but a spreader might be useful and it'd look great if it's one of this colorful set of butter spreader.

How to make this banana snack
STEP BY STEP PICTURES ON HOW TO MAKE THIS BANANA SNACK
WATCH HOW TO MAKE THIS EASY AND HEALTHY BANANA SNACK (45 sec)

Some tips to make this banana snack perfectly
Since the banana is slippery once cut in half, it might be hard to spread the Nutella evenly. You can use a second knife or piece of cutlery to help you with that, as shown in the video.
Why do I consider this banana snack to be healthy
According to a study published in 2016, "Banana contains several bioactive compounds; such as phenolics, carotenoids, biogenic amines, and phytosterols, which are highly desirable in the diet, as they exert many positive effects on human health and well-being.

Many of these compounds have antioxidant activities and are effective in protecting the body against various oxidative stresses." [1]

What we need to keep in mind, however, is that bananas are a starchy fruit that contains sugar. The riper the banana, the higher the amount of sugar.

When we ingest any food that contains sugar, it provokes a spike of sugar in our blood. Depending on the type of food, this spike can be more or less rapid.

However, ingesting a type of good fat together with that food, it helps to get a smaller spike and gives the time for our body to slowly absorb it.

In this recipe, the Healthy Nutella has a certain amount of fat coming from the hazelnuts and, as for the sesame seeds, almost half of its macronutrient quantities are fat.
Can I make this banana snack with different ingredients?
Absolutely, yes! If you don't have Healthy Nutella ready at home, you can use any nut butter instead (if you choose peanut butter, make sure to use organic).
If you don't have pumpkin pie spice, you can use cinnamon instead.
Finally, you can sprinkle sunflower seeds instead of sesame, or any crushed nuts like walnuts, almonds, pistachios.
Bananas are a natural sweetener; they make a great base for many healthy desserts and keeps them moist.
Those are more recipes where you can use bananas as a sweetener:
Your turn now: Do you like bananas? Have you ever tried a banana snack like this? Let me know if you have any questions by leaving a comment below.
As always, I appreciate you stopping by my blog, and if you think this post might help someone you know to make even a small step to a healthier lifestyle, please don't hesitate to share it away!
Happy Healthy Eating!
A big hug,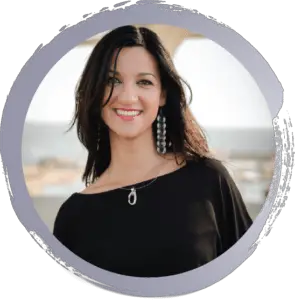 Hi, I'm Claudia
I'm a Health Motivator, I hold a master's degree in Nutrition and Dietetics and I'm dedicated to making it easier for you to live a healthier life.
More about me
Featured in


Get Your Planner